ETTLIN LUX is a worldwide unique and patented textile, which creates three-dimensional light lines from light sources, which are arranged behind the textile. This makes ETTLIN LUX a fascinating combination of textile and light design. With a team of interior architects, product designers and engineers collaborating, a collection of ready to use products have evolved.
ETTLIN LUX

®

Smart Textiles
The starting point for the development of  ETTLIN LUX special lighting fabric was the question, "in which form light – independent of the already known materials – can still be designed with textiles".
The objective was to develop a fabric that is translucent on the one hand and that adds another exciting dimension to the medium of light on the other. The birth of ETTLIN LUX.
These unique patented textiles are made in Germany for lighting effects in interior design. ETTLIN LUX offer textiles for different lighting designs in combination with frame systems, mirror glass or as part of the Ambiloom ready to use collection. The result is a real eye-catcher for different areas of application: from private interior design to office or hotel design.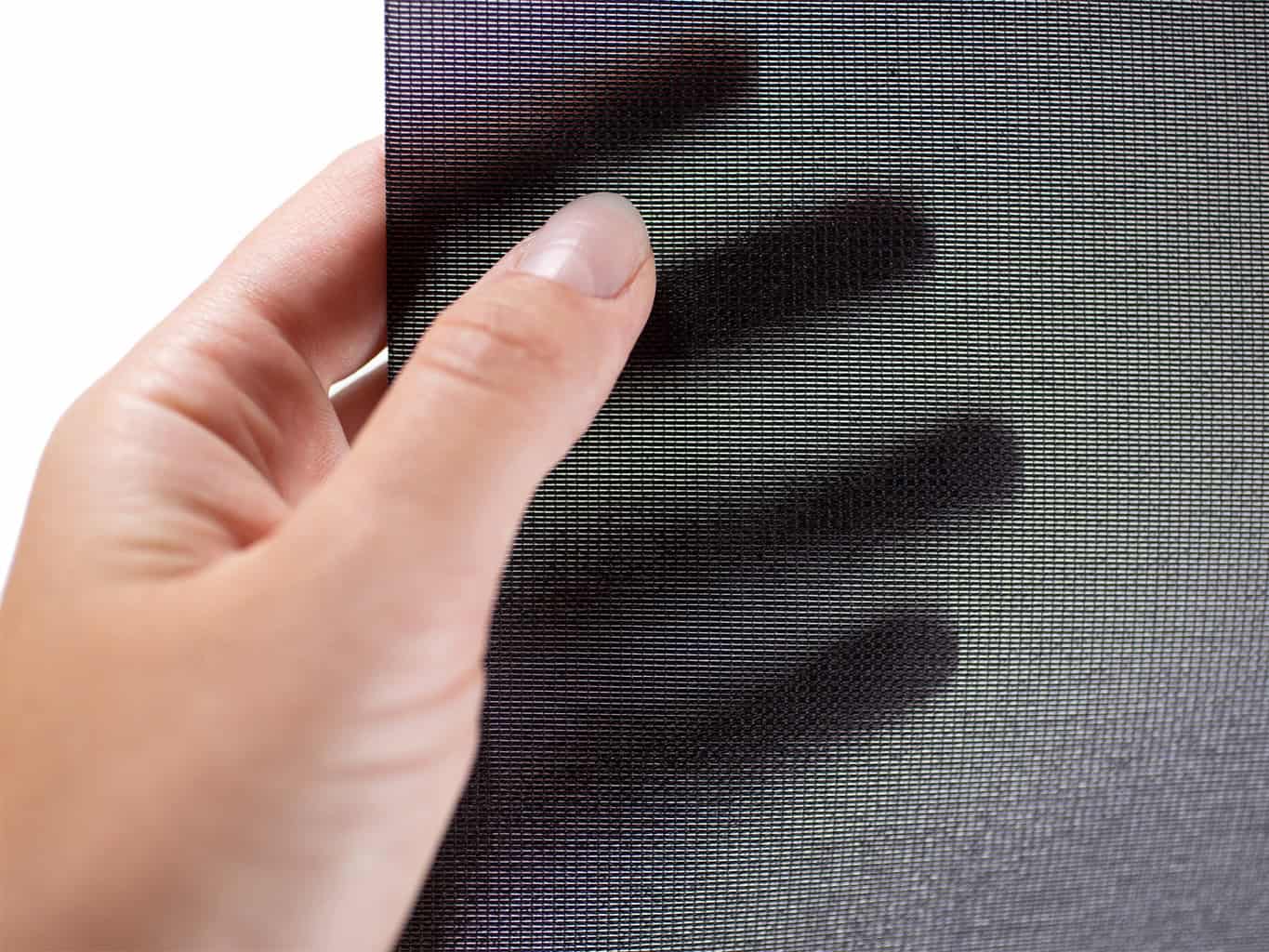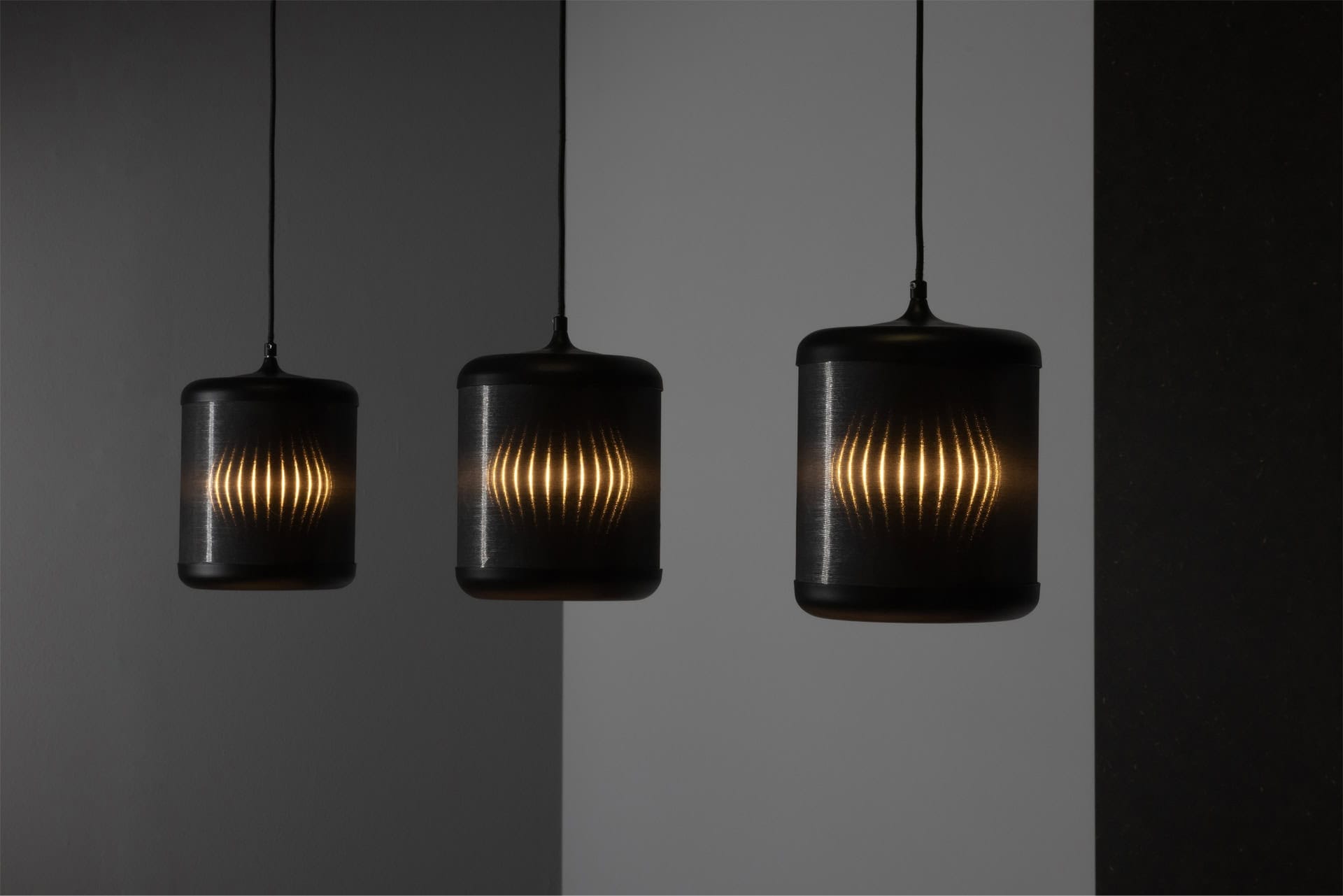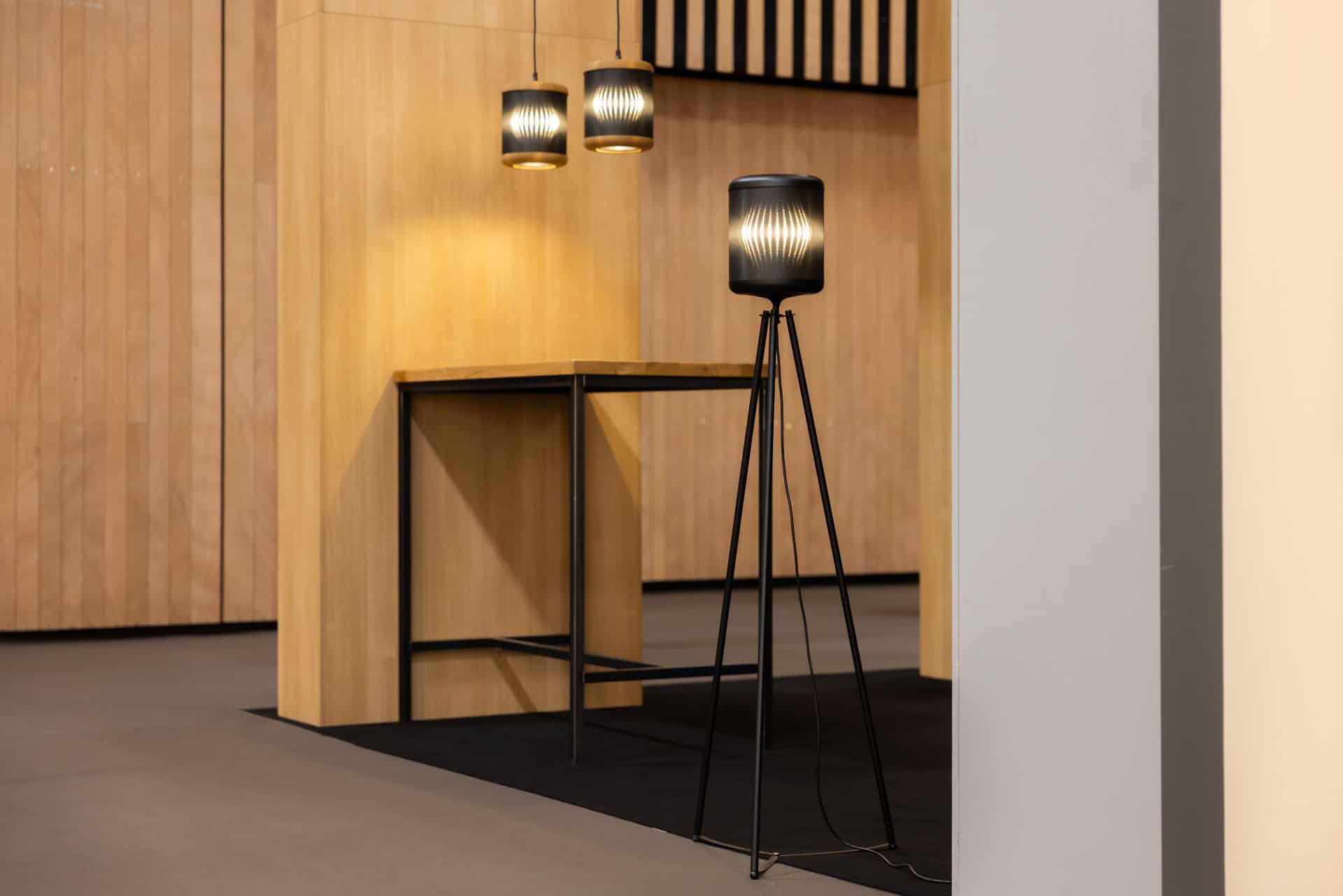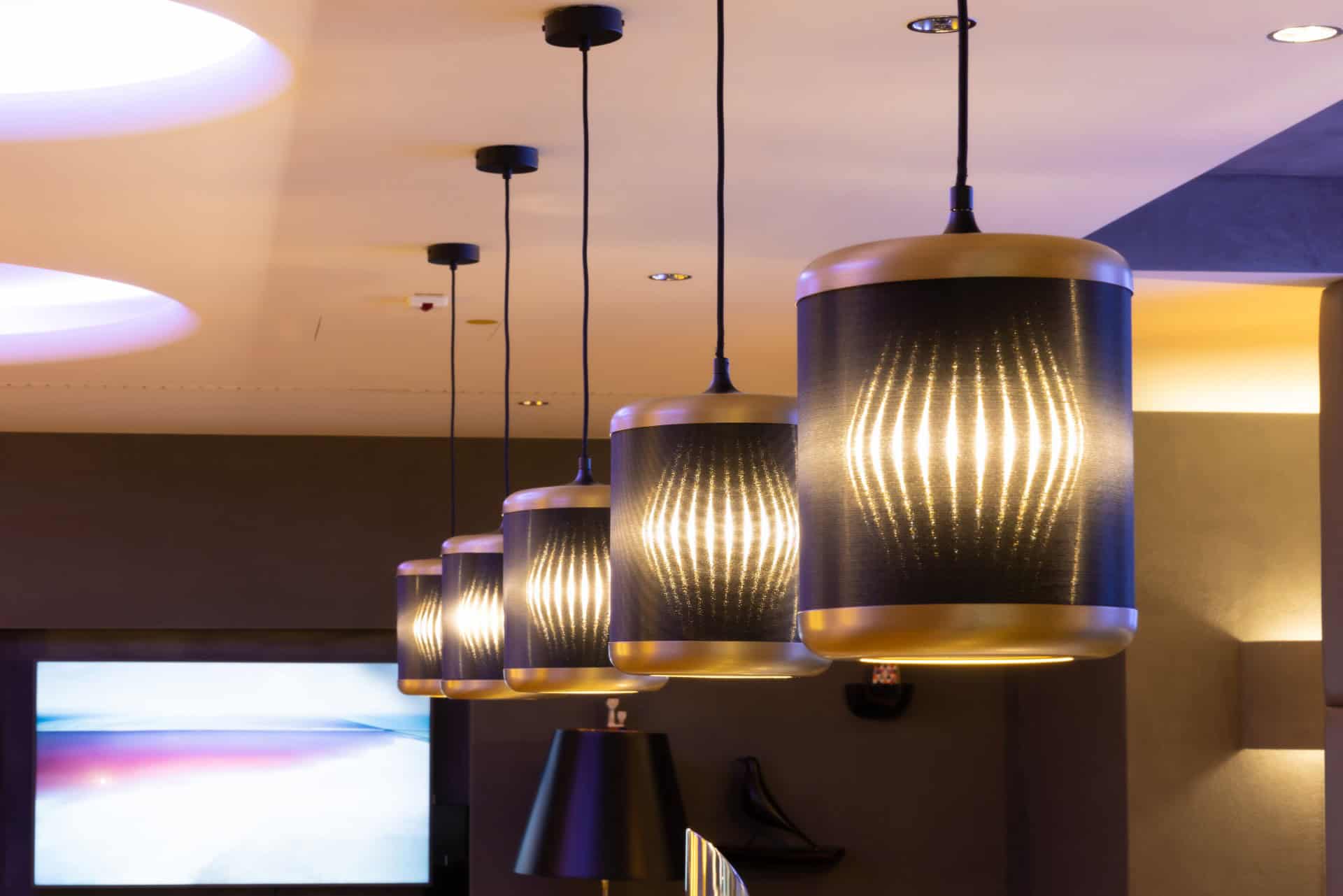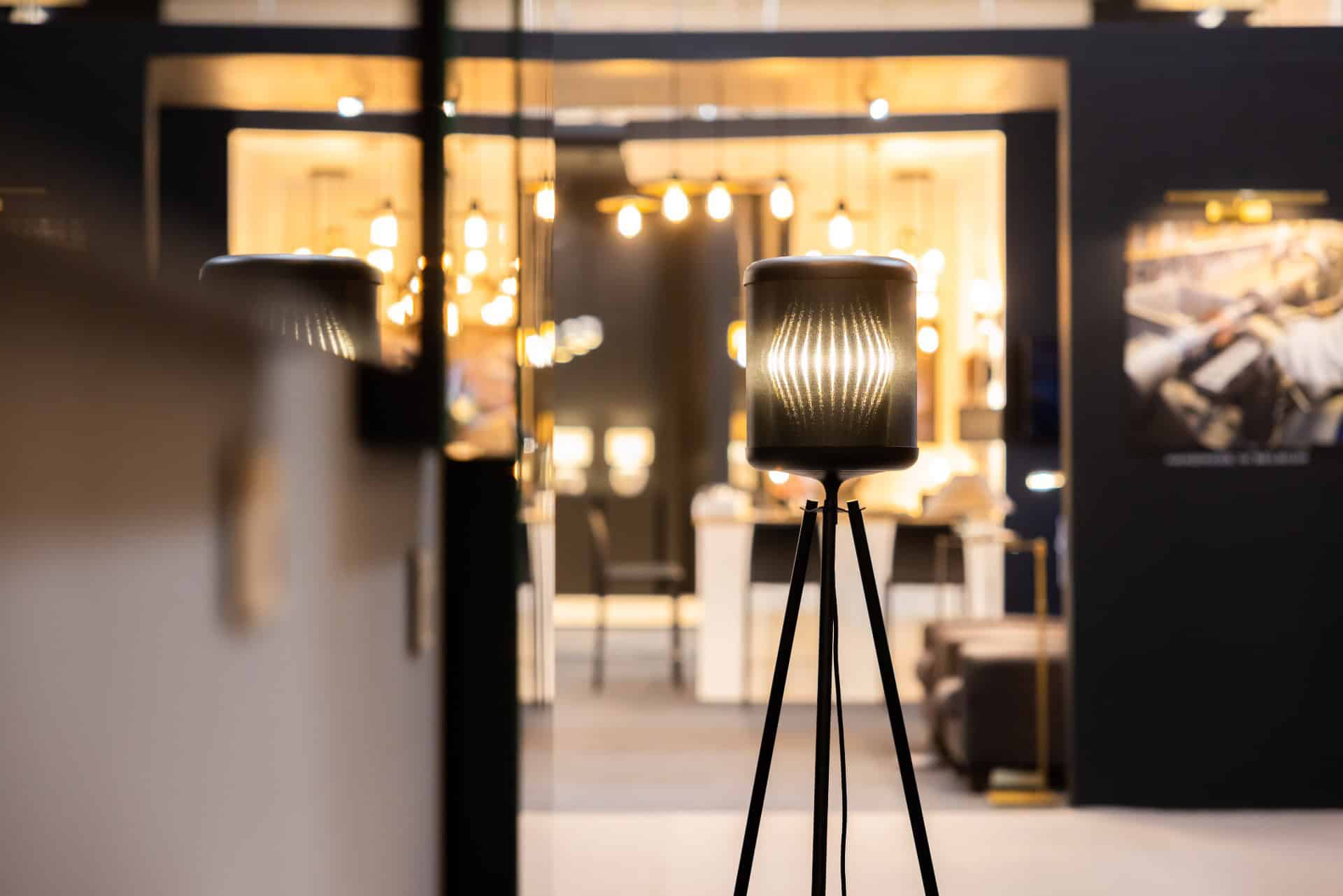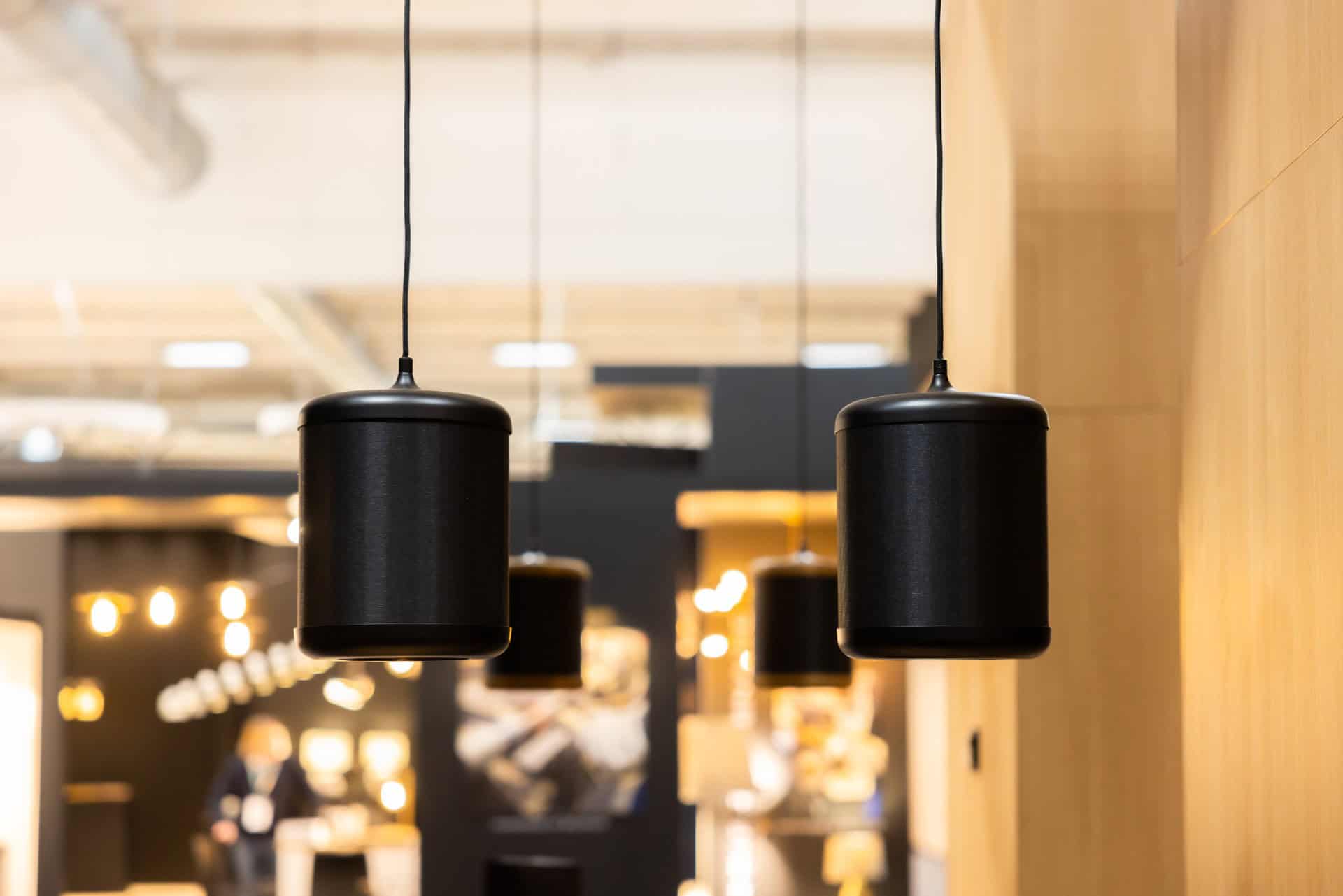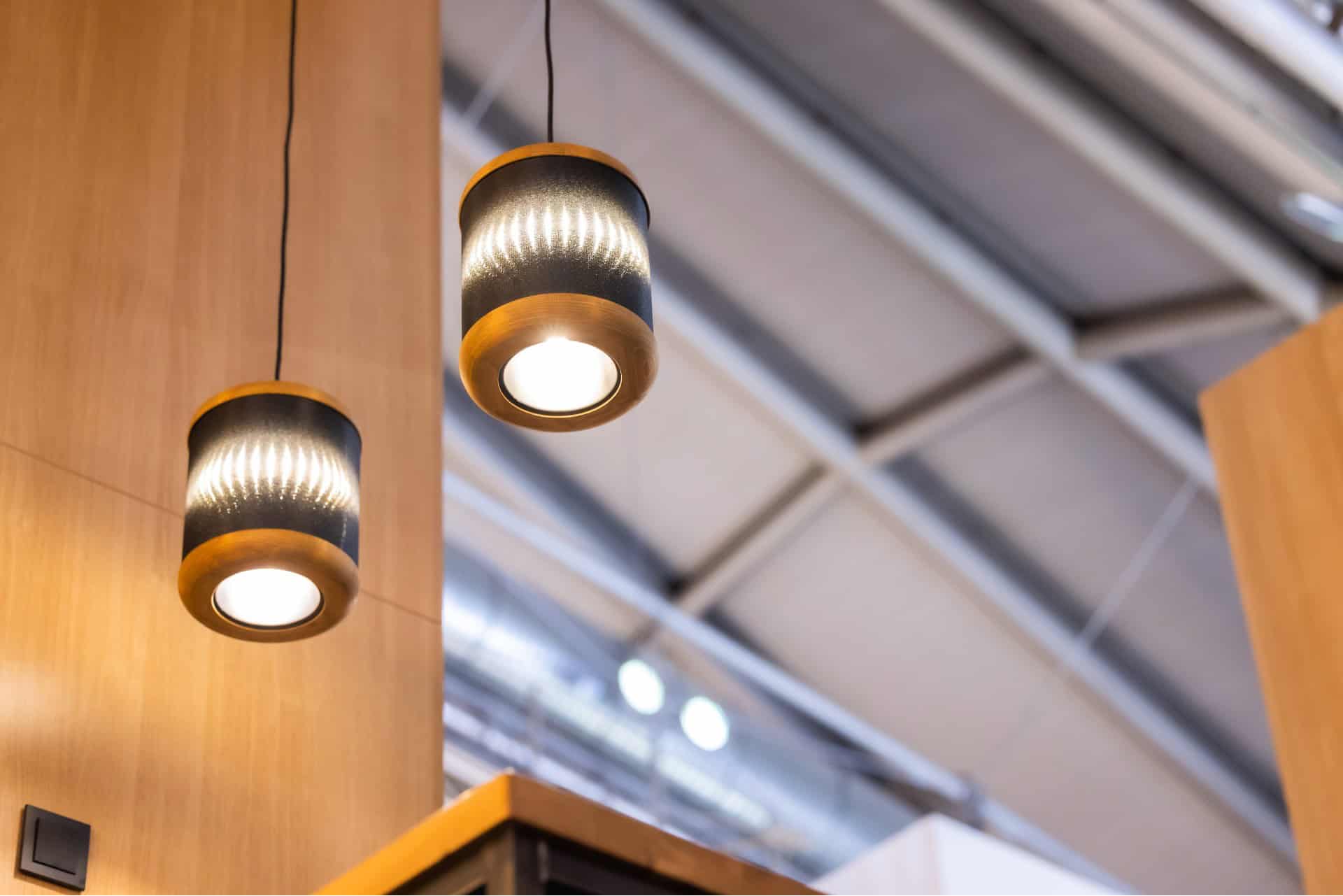 The Ambiloom Pendant is a ceiling mounted pendant luminaire with a textile surface. In addition to a functional downlight, the luminaire also has ambient lighting. The pendant lamp impresses with its textile surface, functional downlight and ambient lighting effect. For a more subtle effect, the luminaire is operational without the inclusion of a light bulb and harmoniously blends into various interiors.
The collection makes any room shine in a surprising but discreet way with its unique three-dimensional light lines. Handmade in Europe pendants are available in four different colour combinations, creating a great visual to any room. Available in Black, Brass, Chrome and Timber. Also available to complement the pendants is the Ambiloom Floor Lamp maximising the design potential for an enhanced atmosphere. Floor lamp available in Black.
Ambiloom® Pendant
is Available in Four

Colours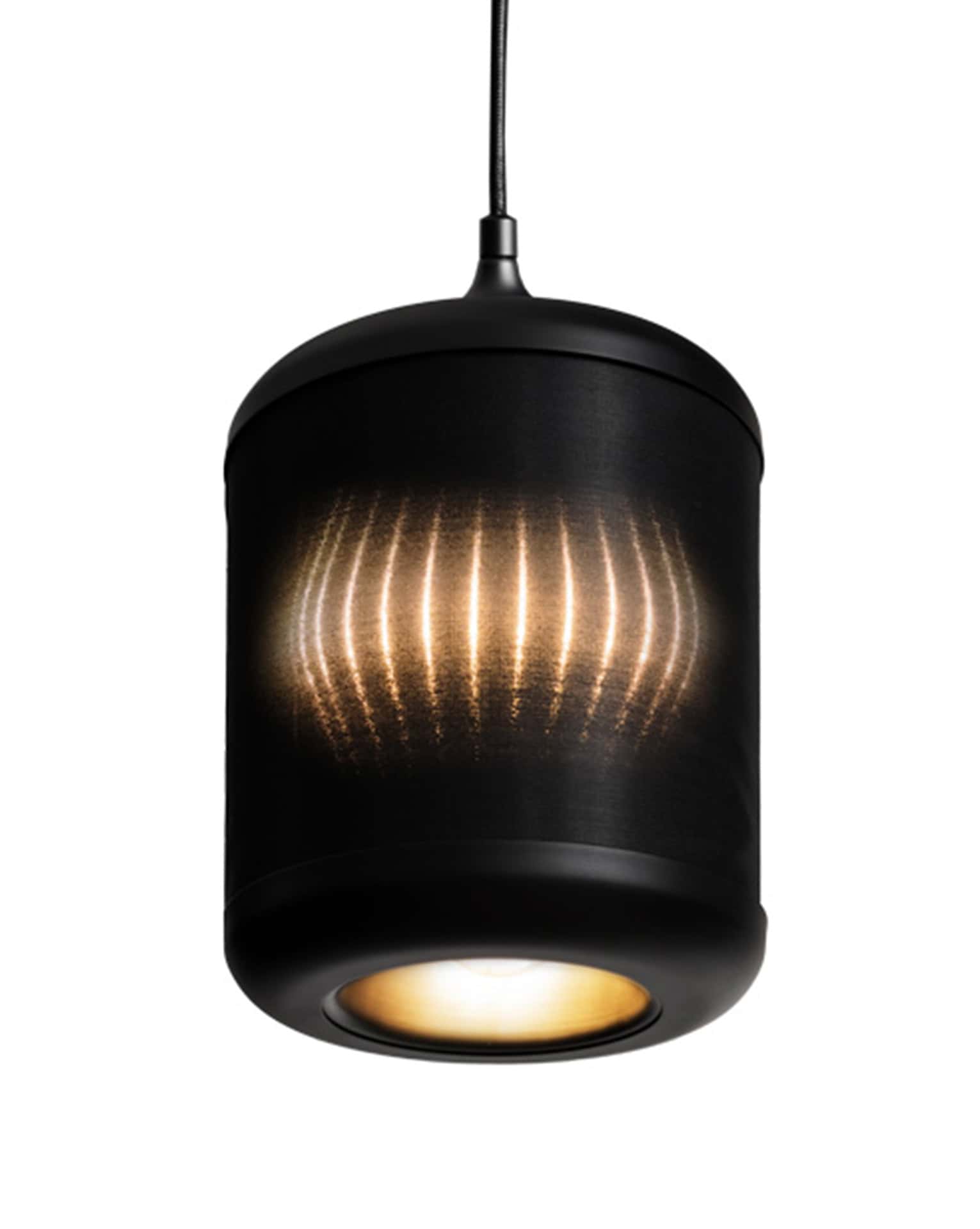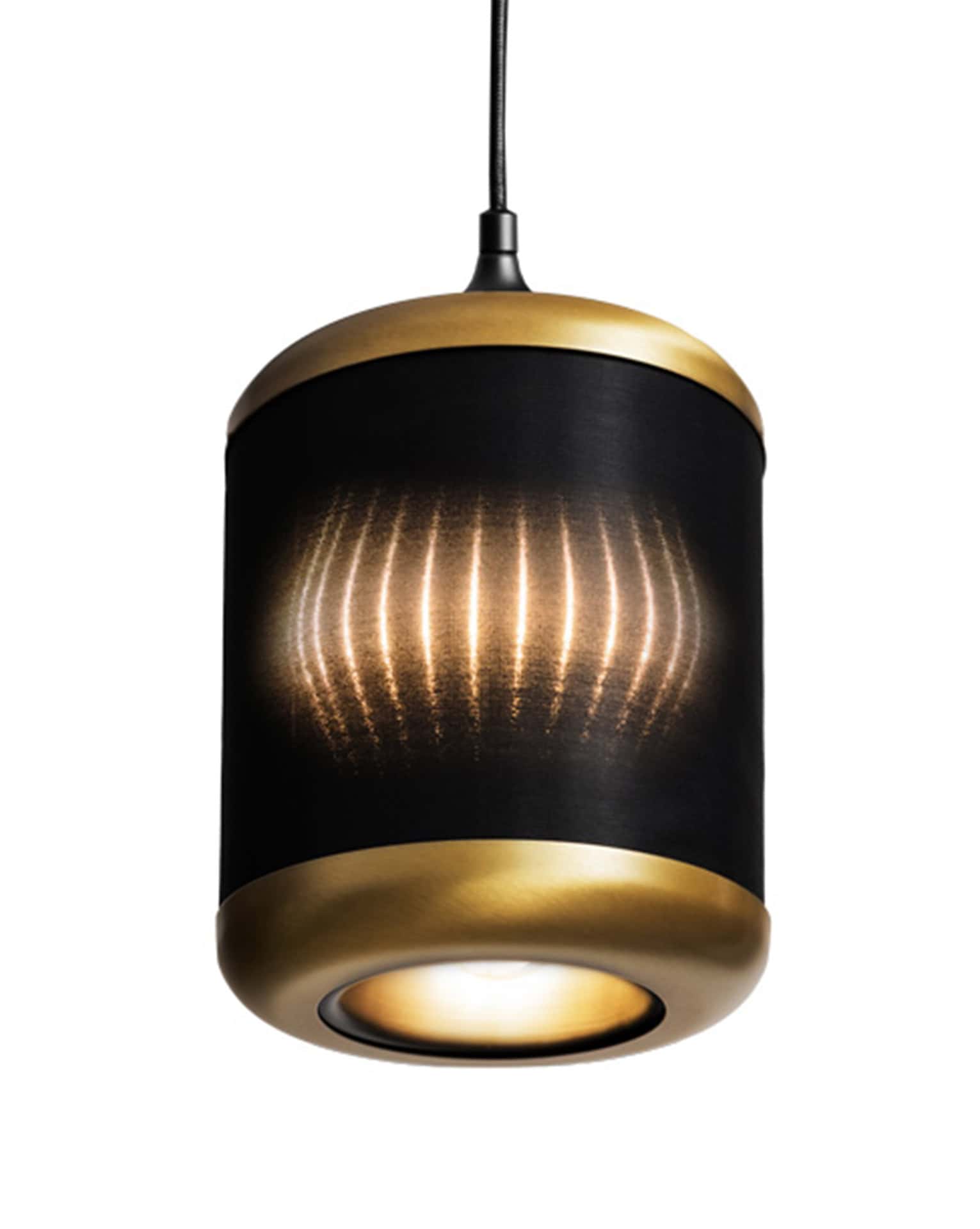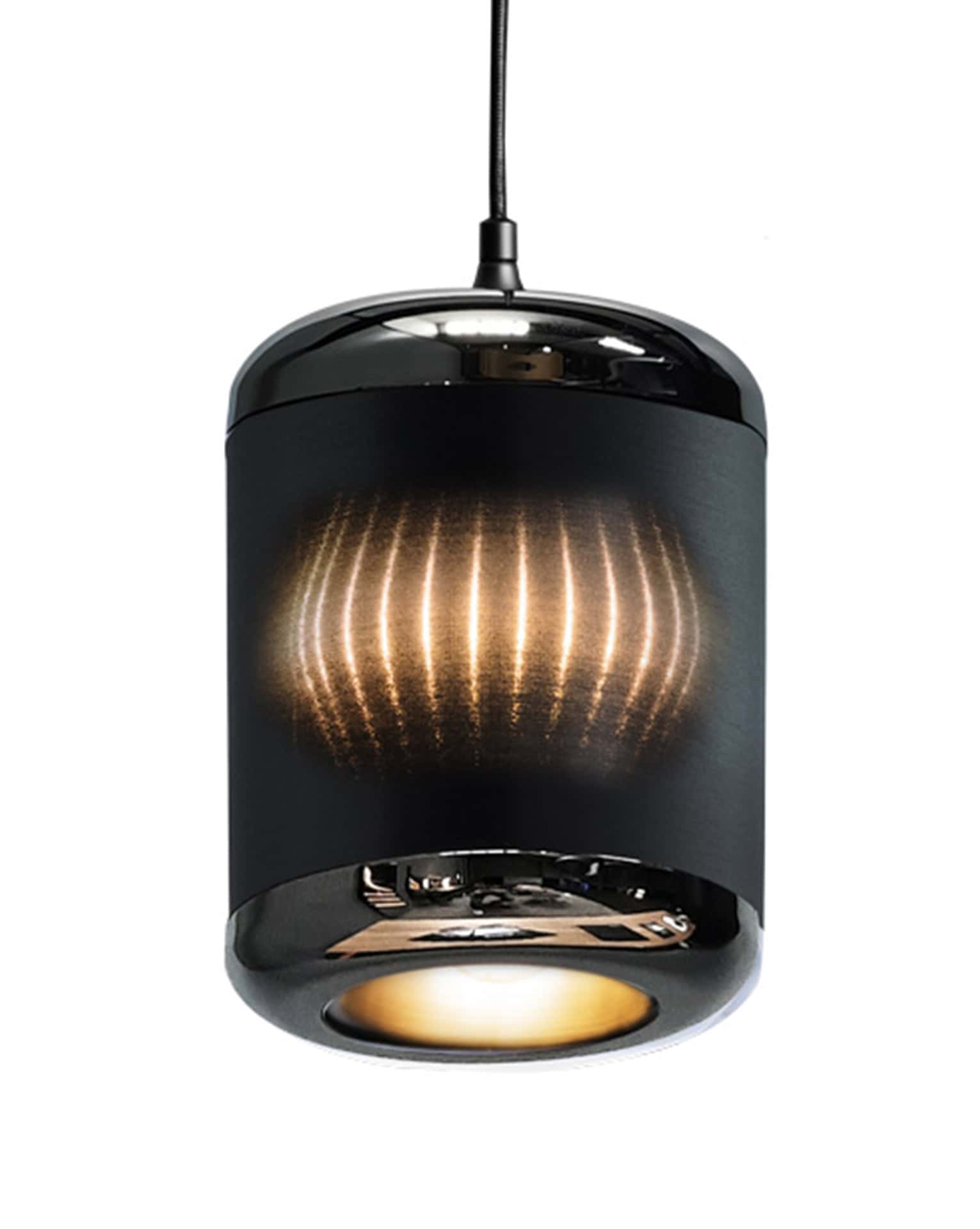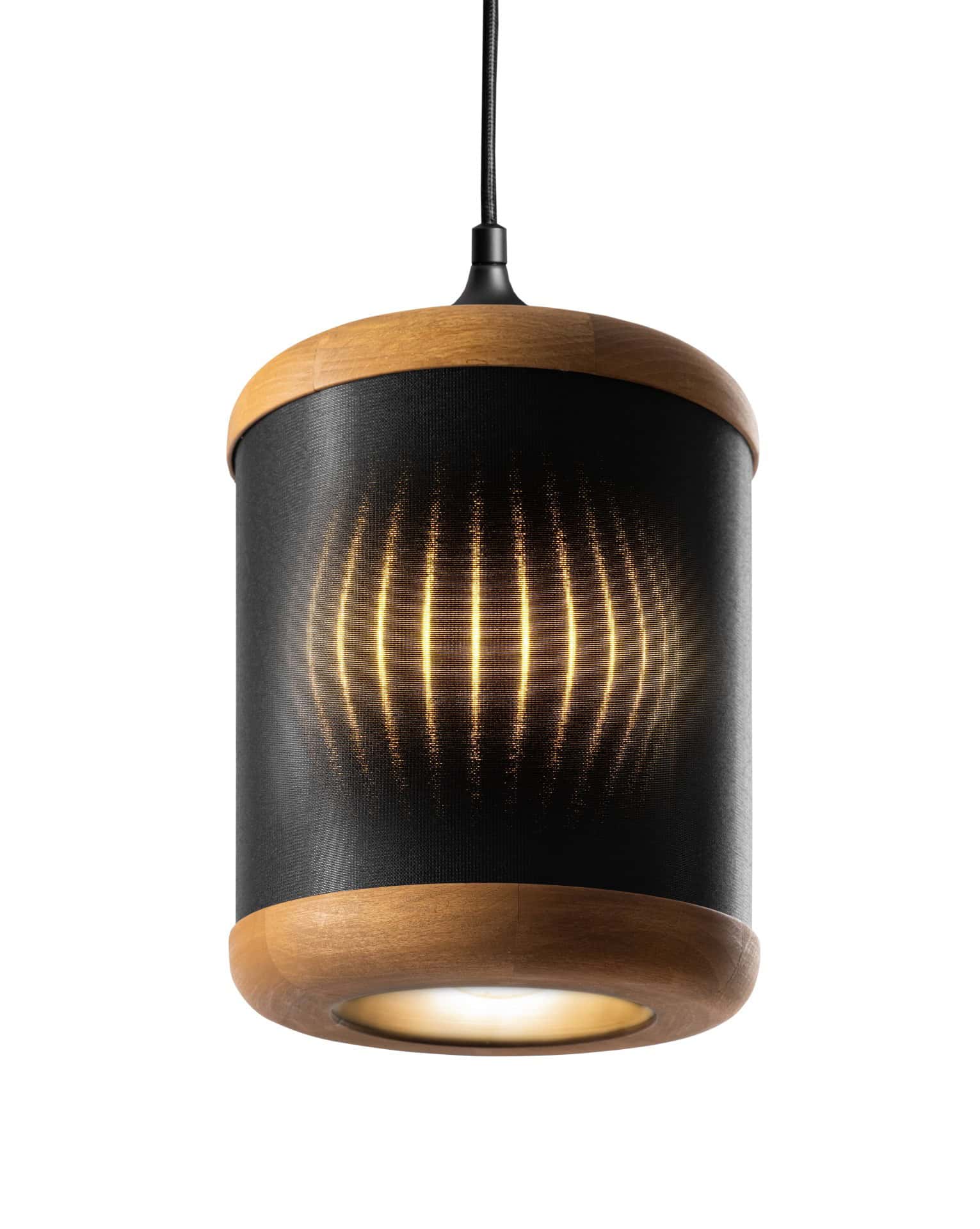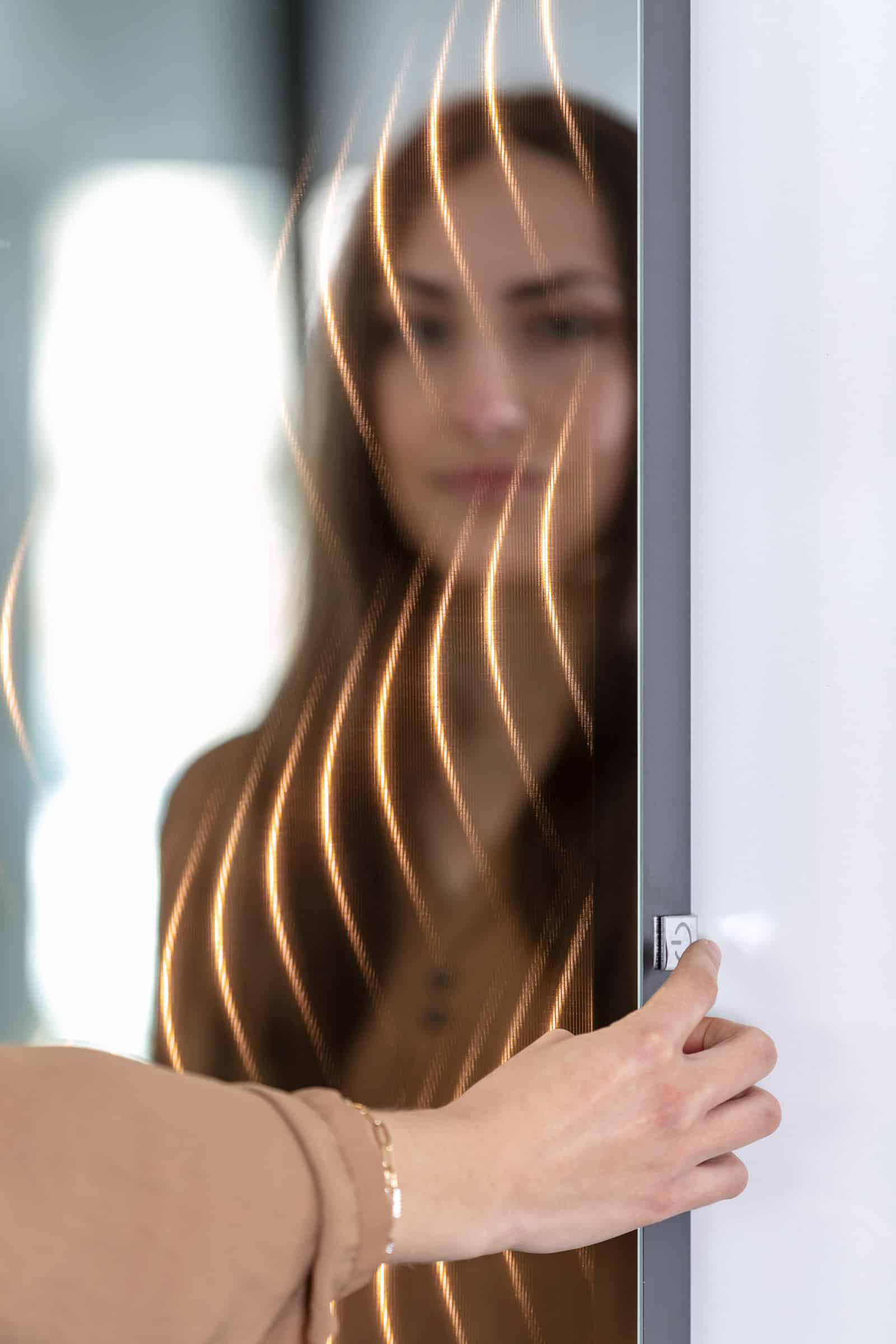 Enhance your interior design project with a surprising light effect element that opens up the depth of the room. 
Ambiloom wall mirrors from ETTLIN LUX impress with three-dimensional, luminous effects in the mirror image. They provide a highlight in interior design and give interior architects and designers the opportunity to visually enhance their projects. Thanks to the modern design, the mirrors fit into the largest variety of room concepts. The multi-purpose accessory presents as a functional mirror, decorative mural, and ambient lighting object for a feel-good atmosphere.
The frameless wall mirror is functional and becomes a fascinating piece of light art at the touch of a button. The black matt eloxated aluminium frame is equipped with a touch sensor that makes the mirror image glow ambiently and effectively on demand.
ETTLIN LUX create a sense of excitement and wonder in any interior design project. As individuals enter a room adorned with these mirrors, they are greeted by a captivating play of light and shadows that adds an element of surprise and intrigue. The luminous effects, generated within the mirror image, evoke a sense of magic and create a dynamic atmosphere that engages the senses.
For residential settings, they can be used to transform living spaces and bedrooms. In commercial spaces such as hotels, restaurants, or lounges, the unexpected lighting effects of the Ambiloom mirrors become captivating focal points that leave a lasting impression on guests. 
The Ambiloom® Wall Mirror is Available in Three Sizes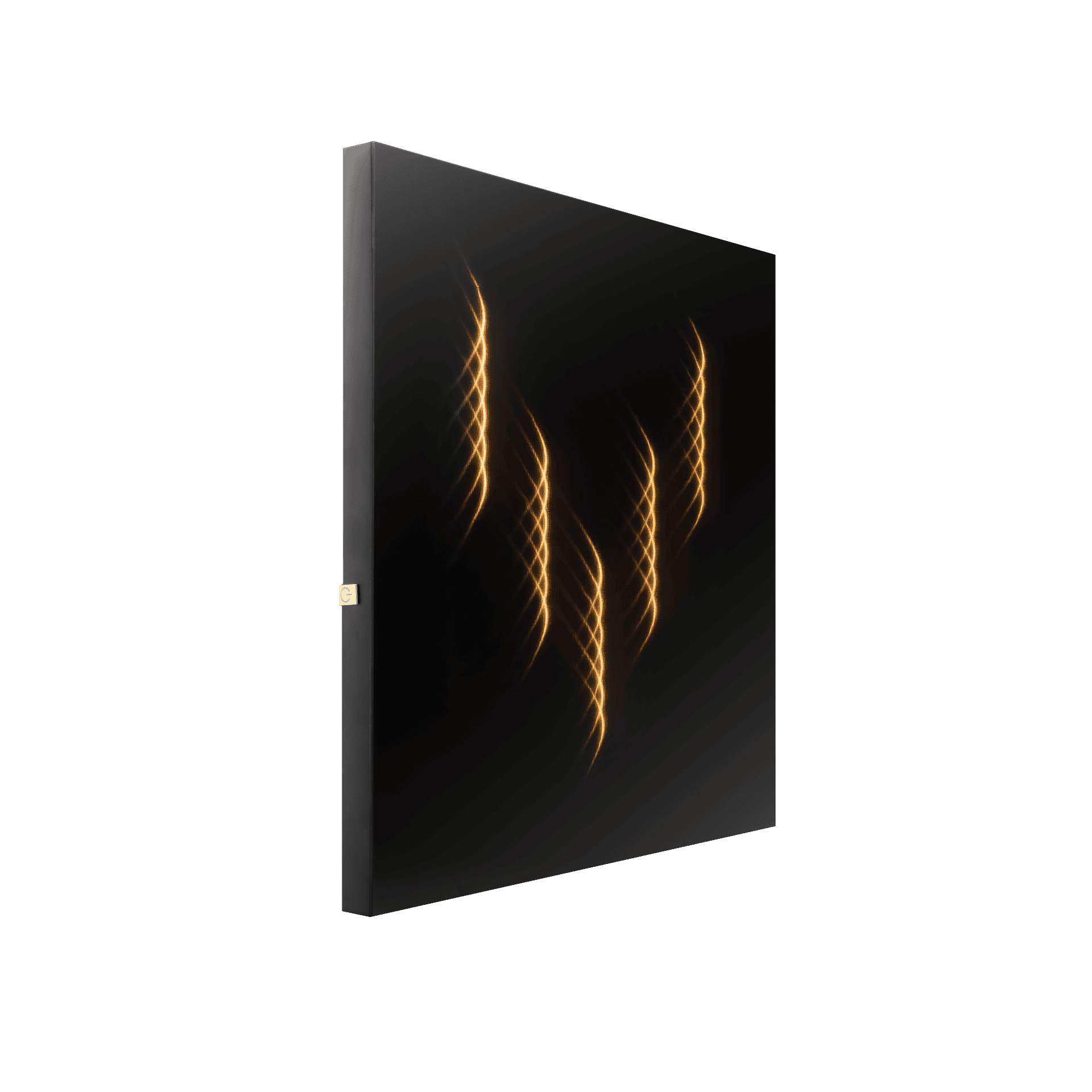 Square mirror with ambient light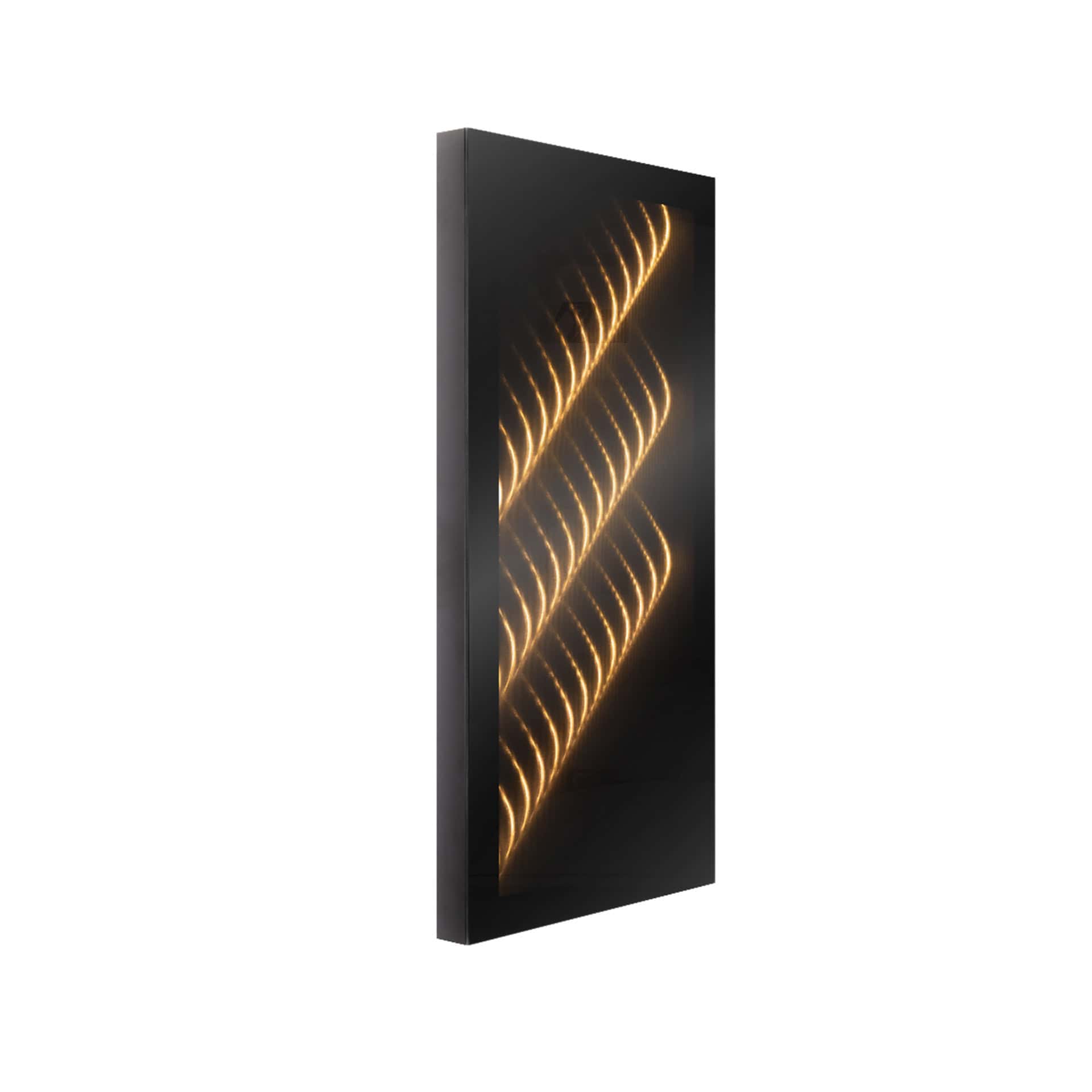 Wall mirror with ambient light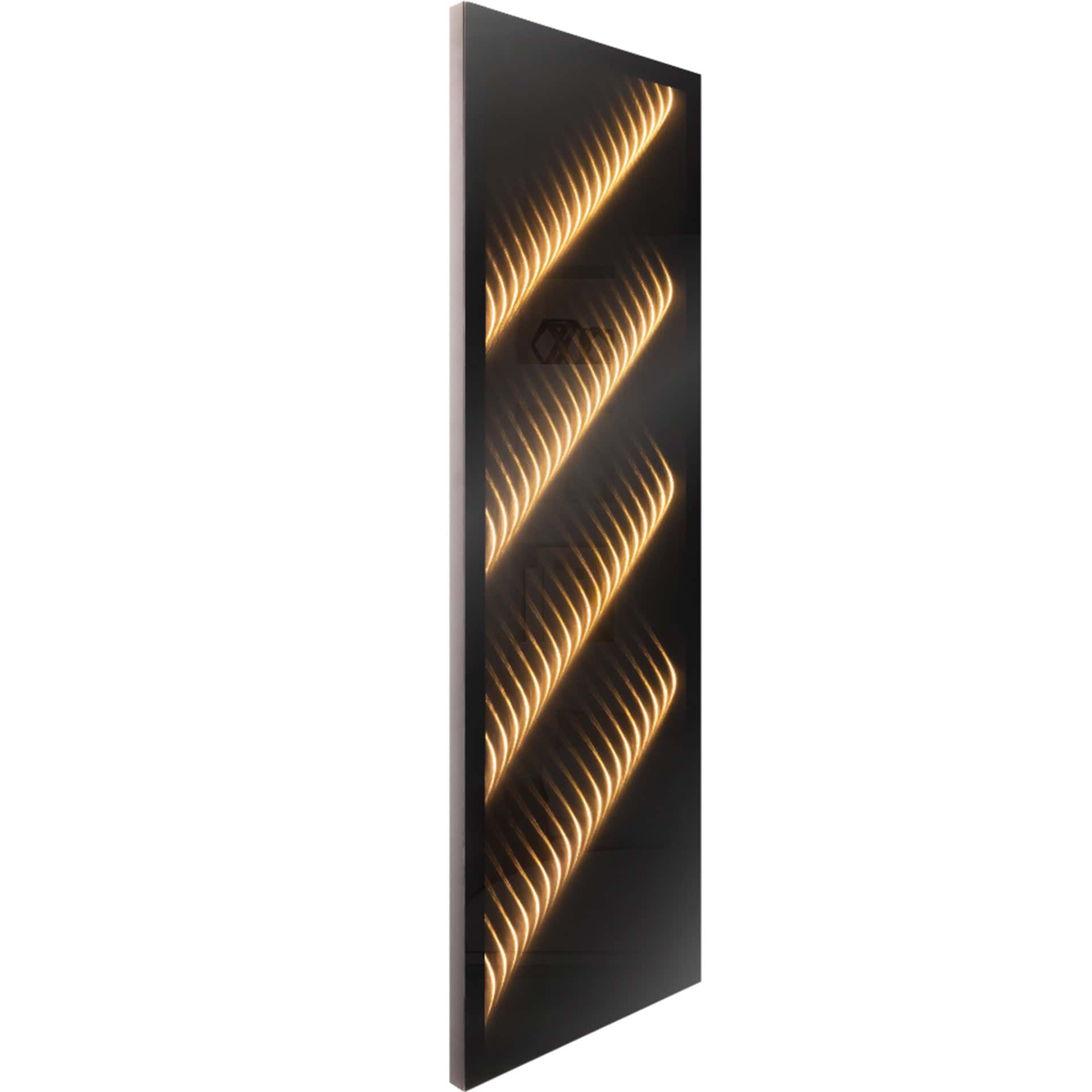 Full body mirror with ambient light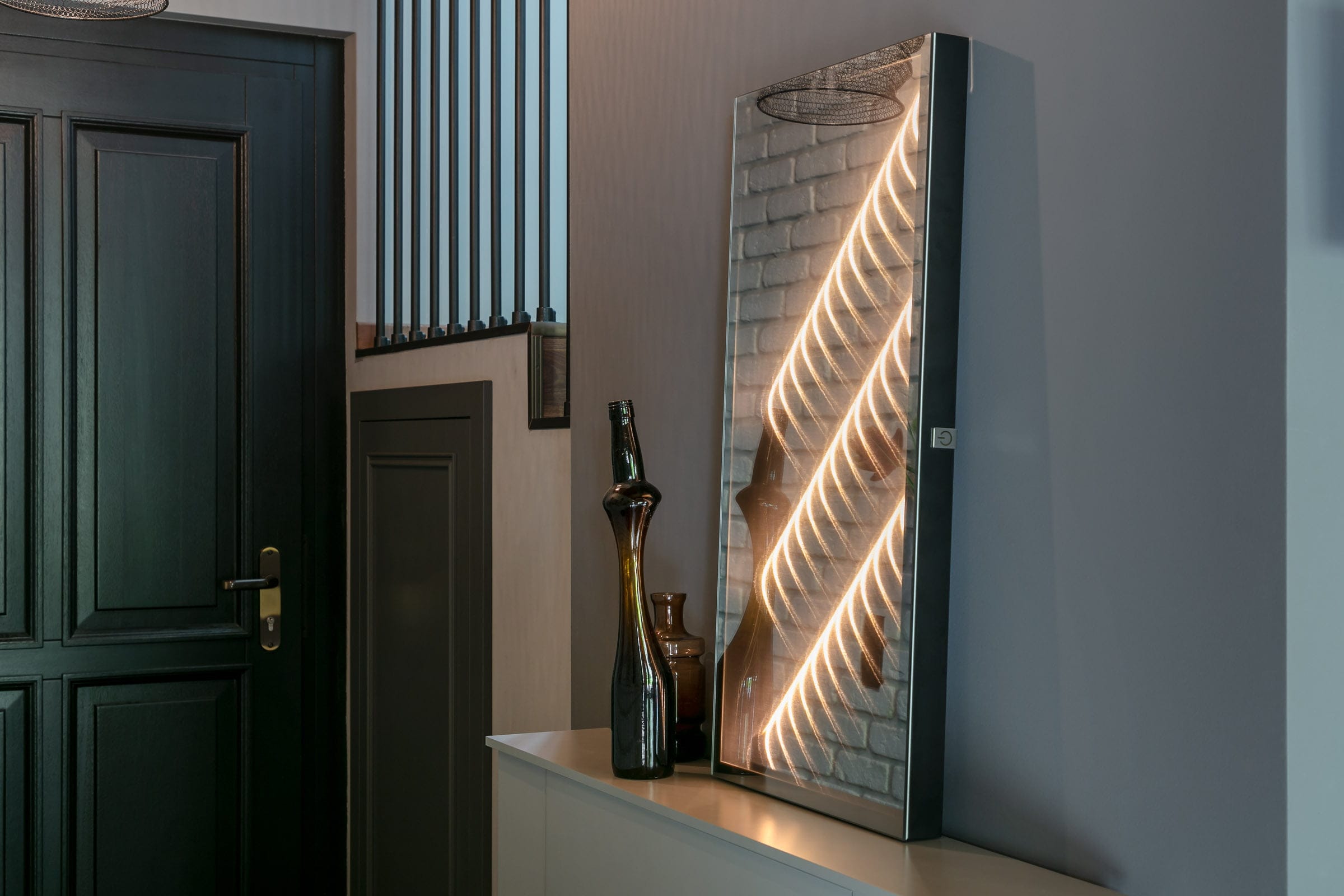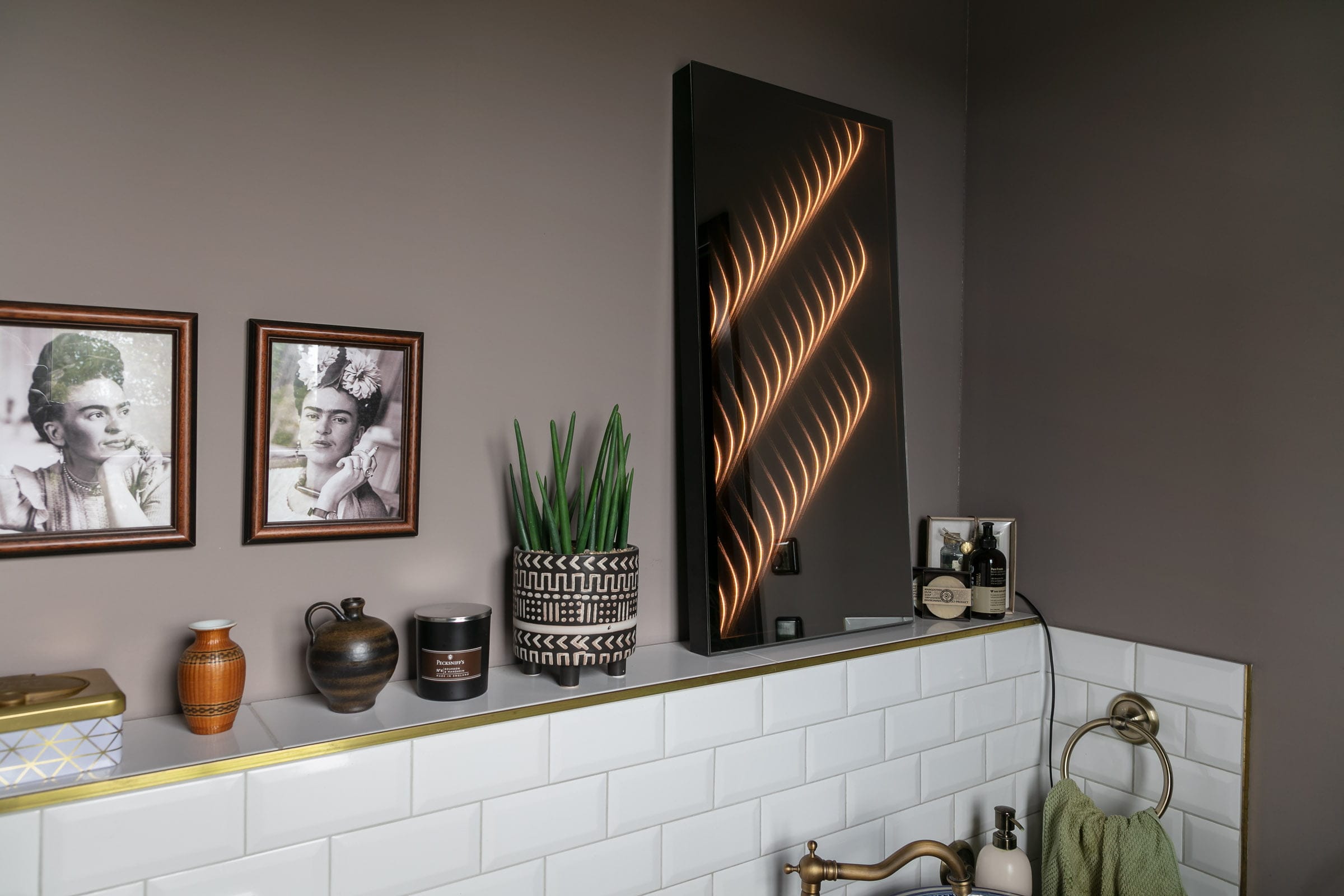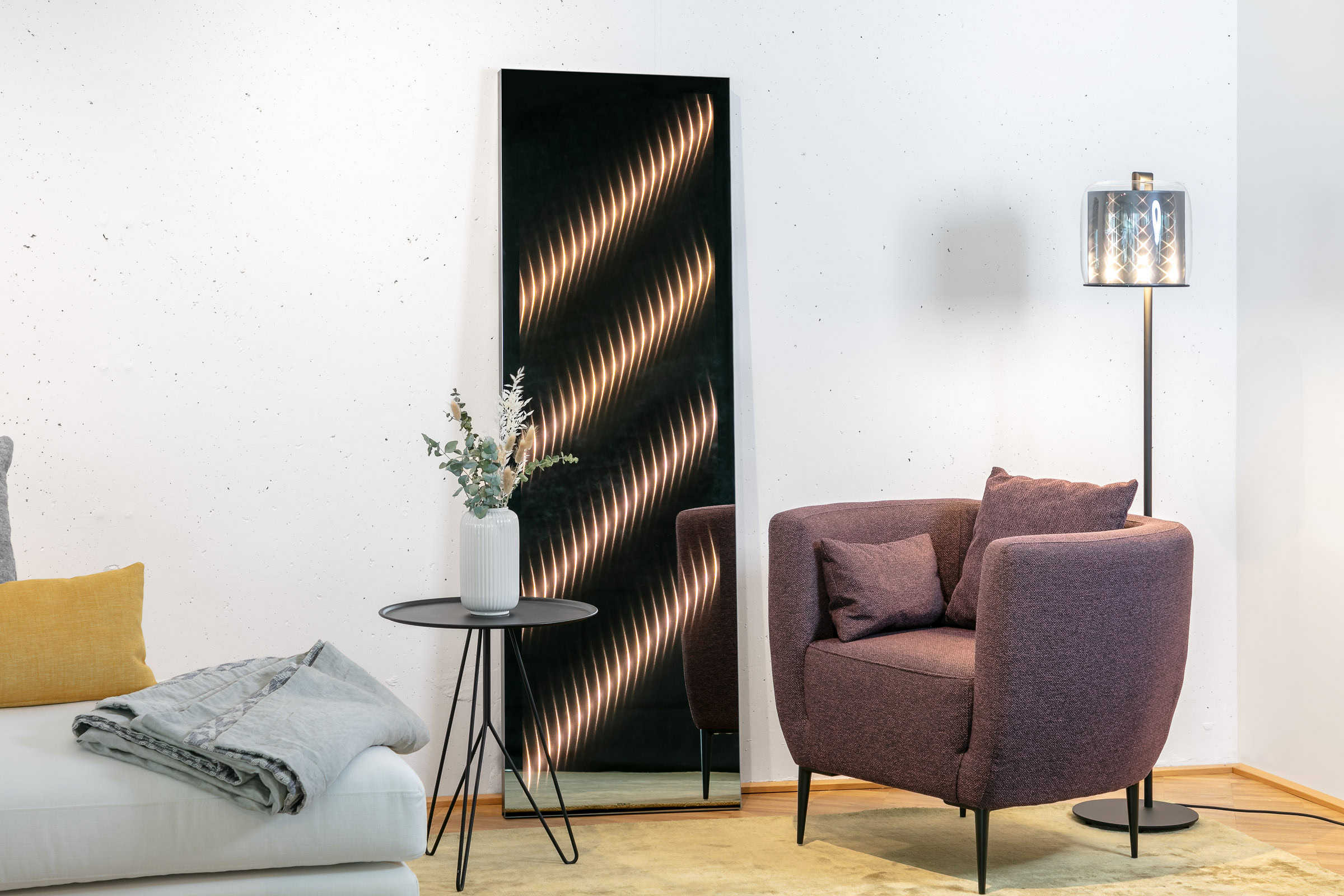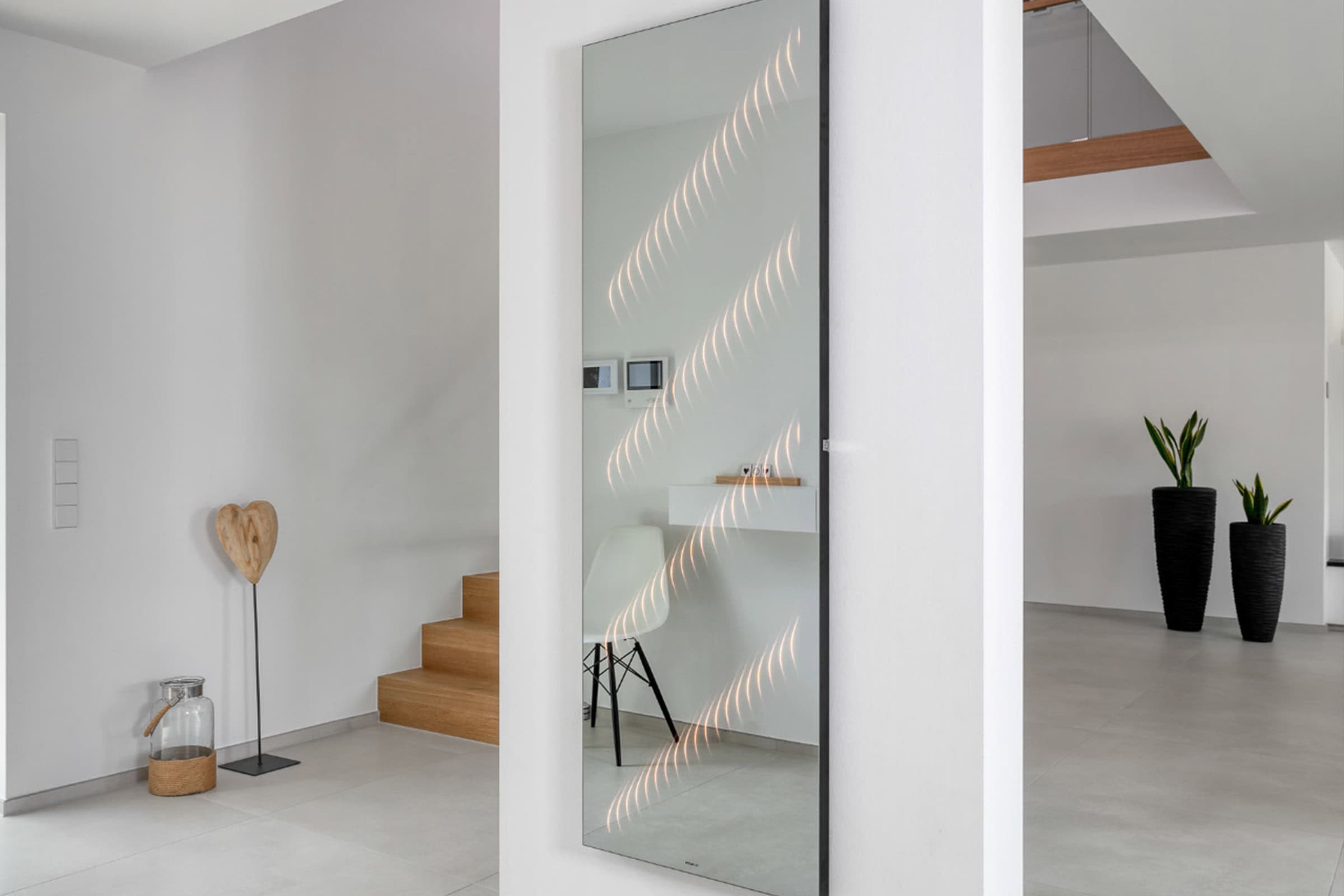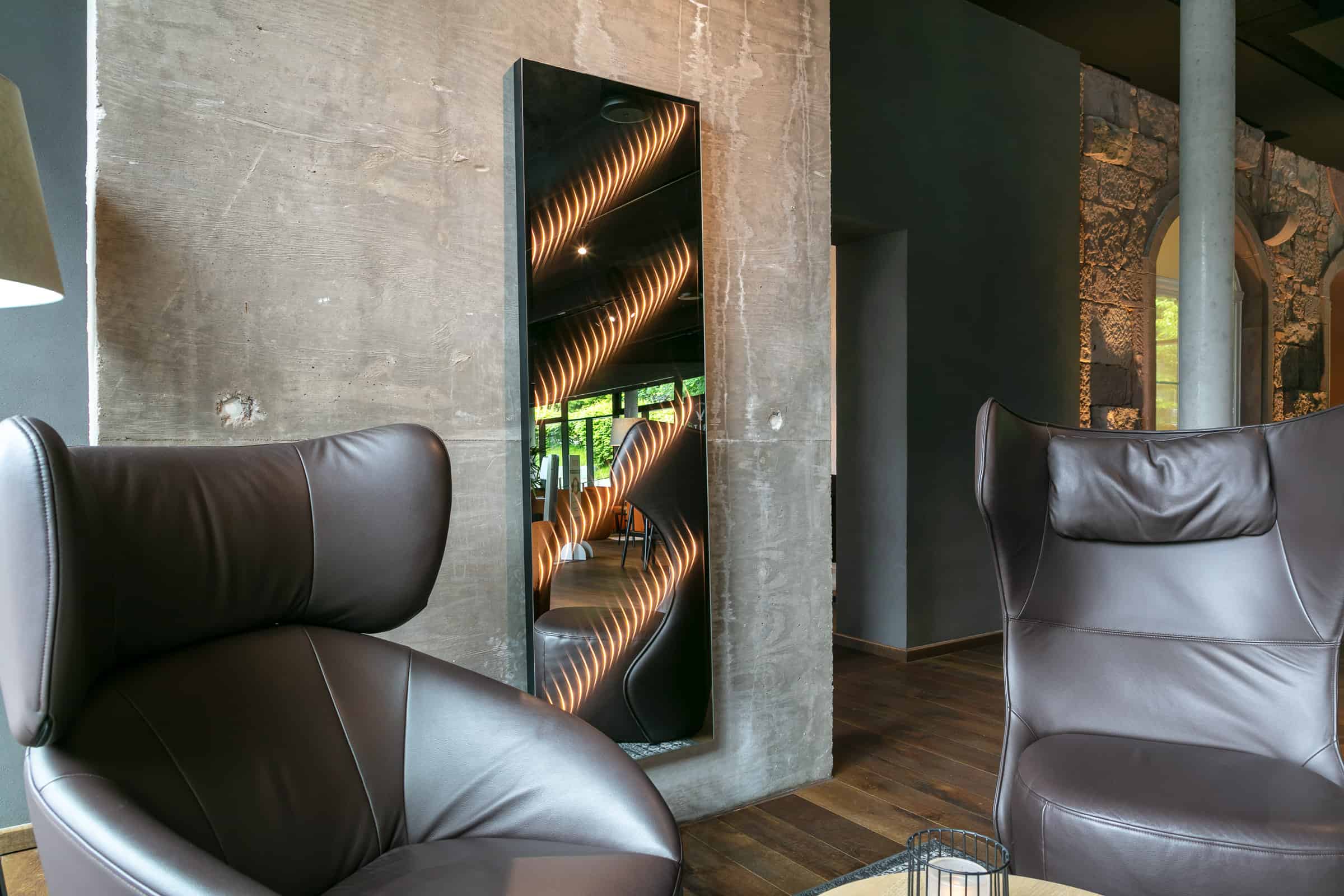 Give your interior design project a surprising element that at the same time expands the depth of the room. Available for custom design applications, Ettlin Lux patented fabrics can be used for Mirror Glass design.
Mirror Glass is the ideal choice for a wide range of architectural environments. Custom Mirror Glass applications offer flexibility with the light and line visual for a personalised project outcome.
The interplay of light and line visually expands the depth of the room, creating an illusion of spaciousness.  Mirror Glass allows designers to tailor the application to their specific project requirements.
Multi-Faceted Mirror Wall with Effective Illumination Creates
a Sophisticated Room and Project Design.
LEDs ON
Thanks to LEDs on the back plate of the ETTLIN LUX Mirror Glass, a three-dimensional light effect is created in the mirror image. The type of lighting design may be individually planned (static or dynamic).
LEDs OFF
Even when switched off, ETTLIN LUX Mirror Glass is a functional, minimalist design element.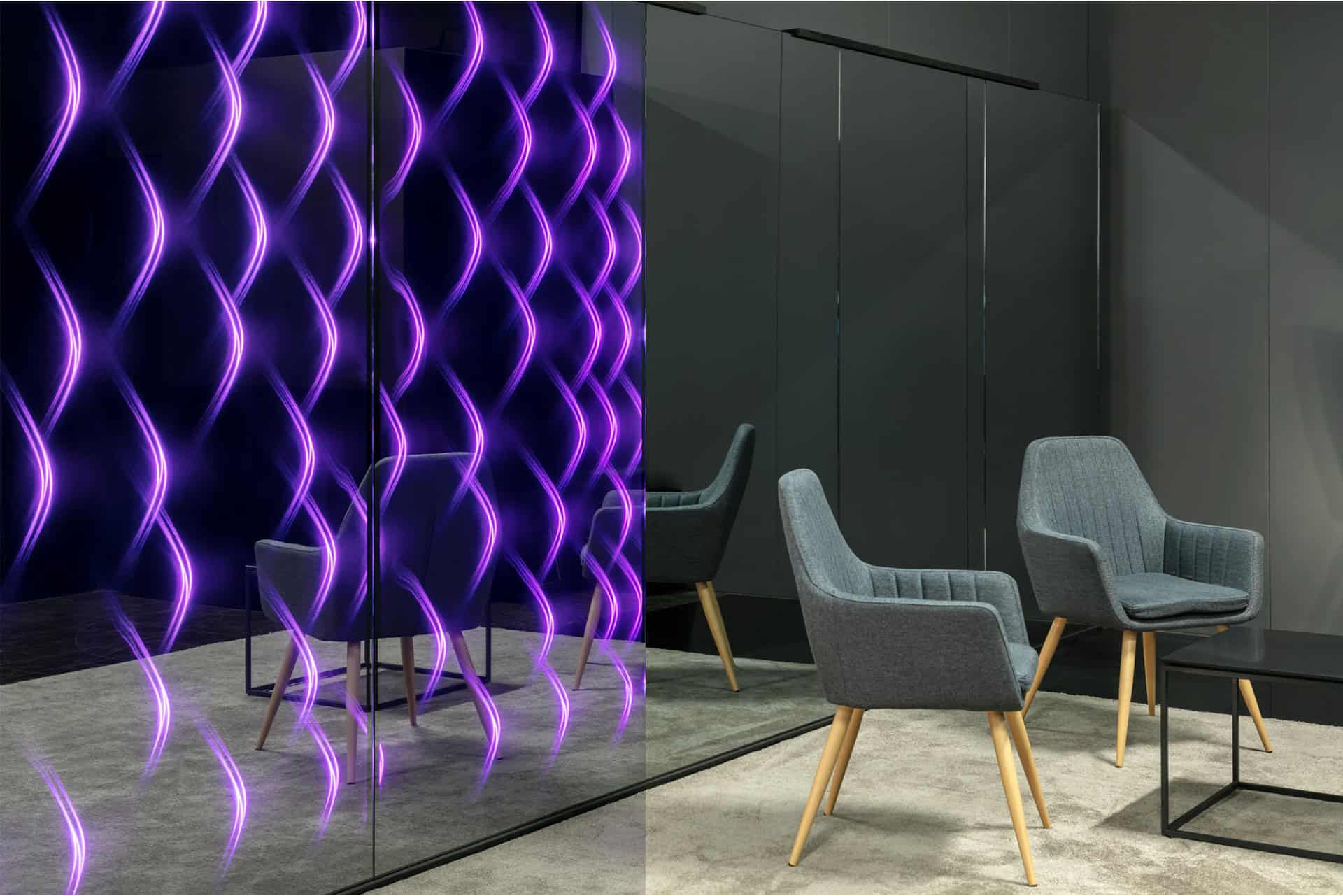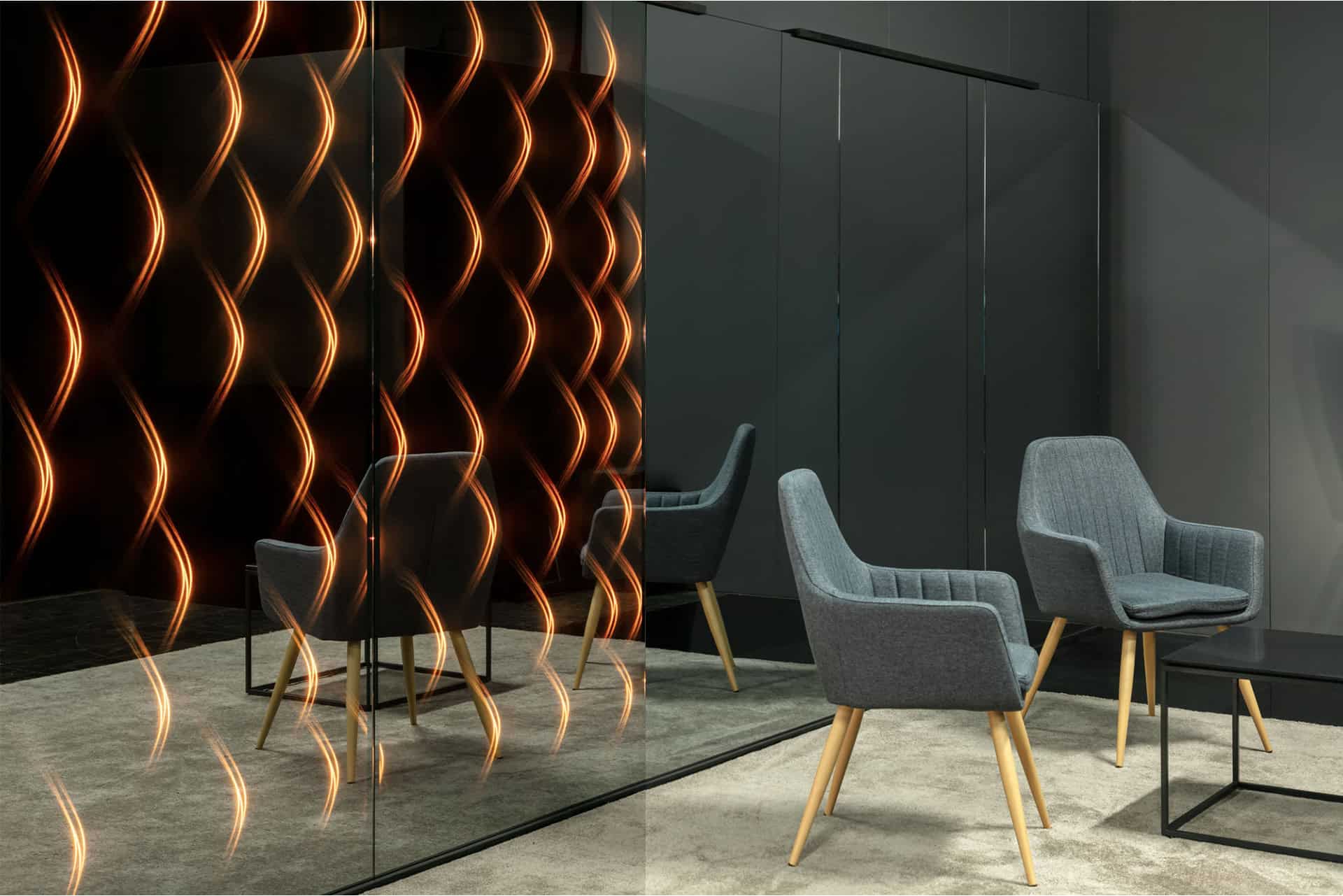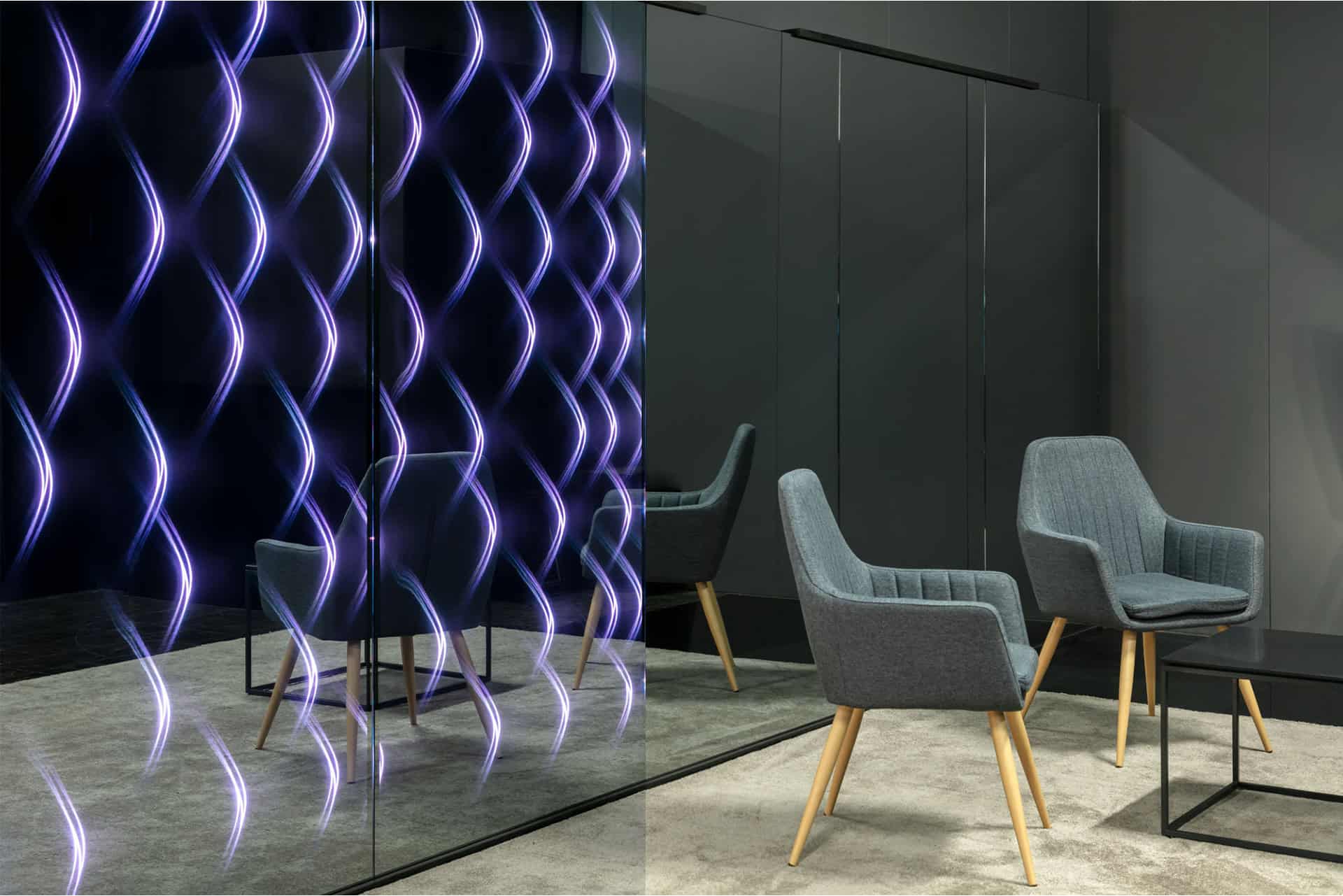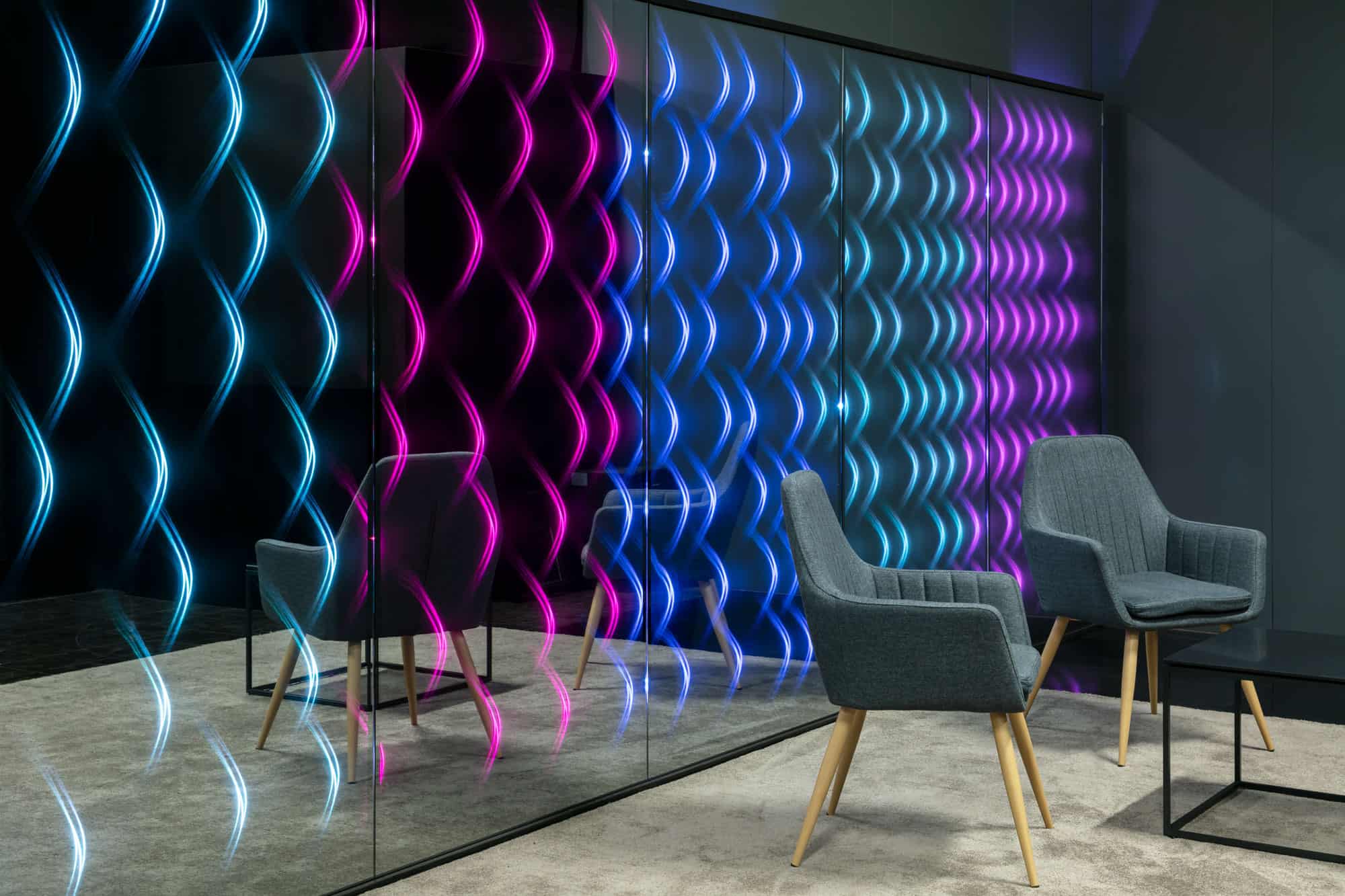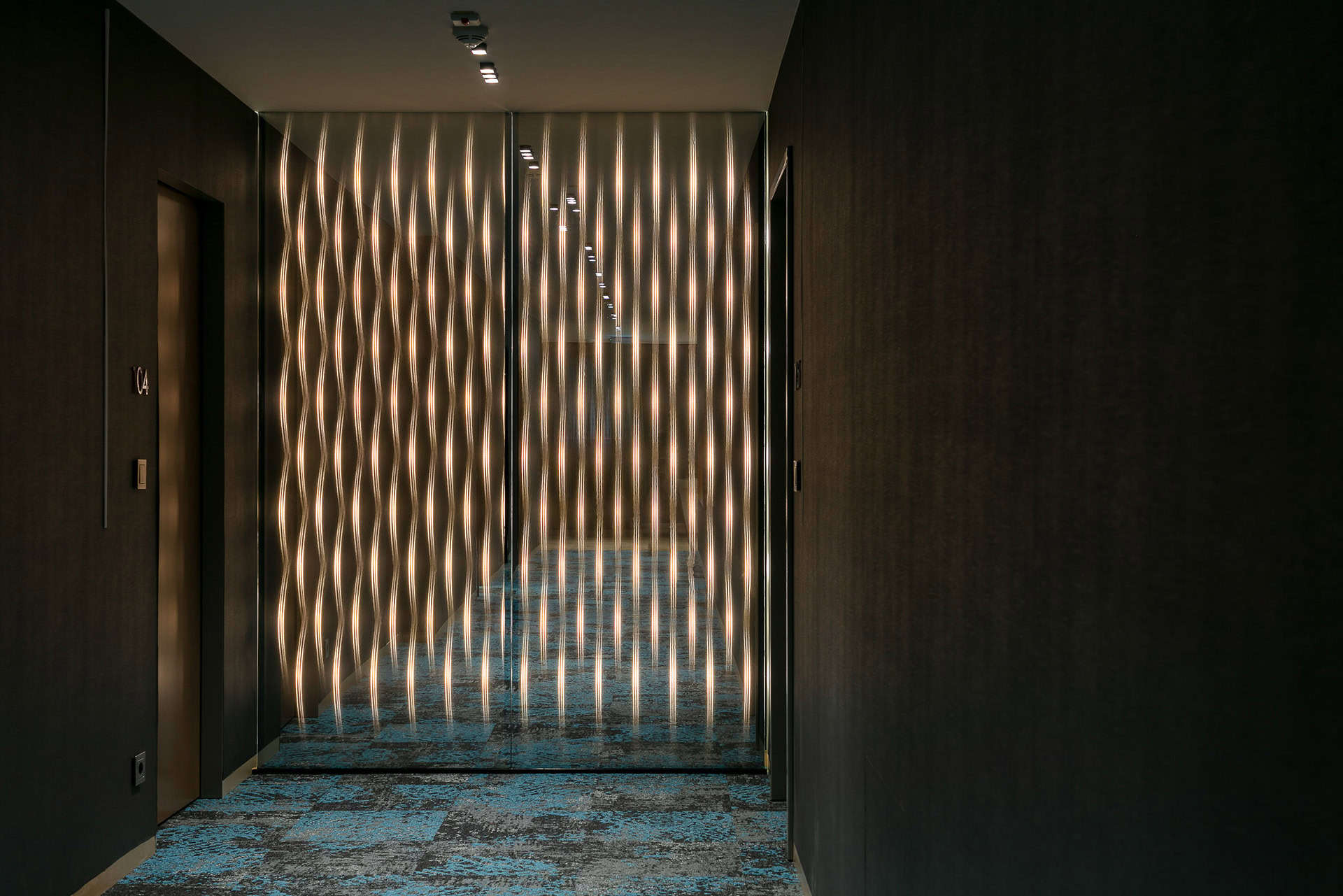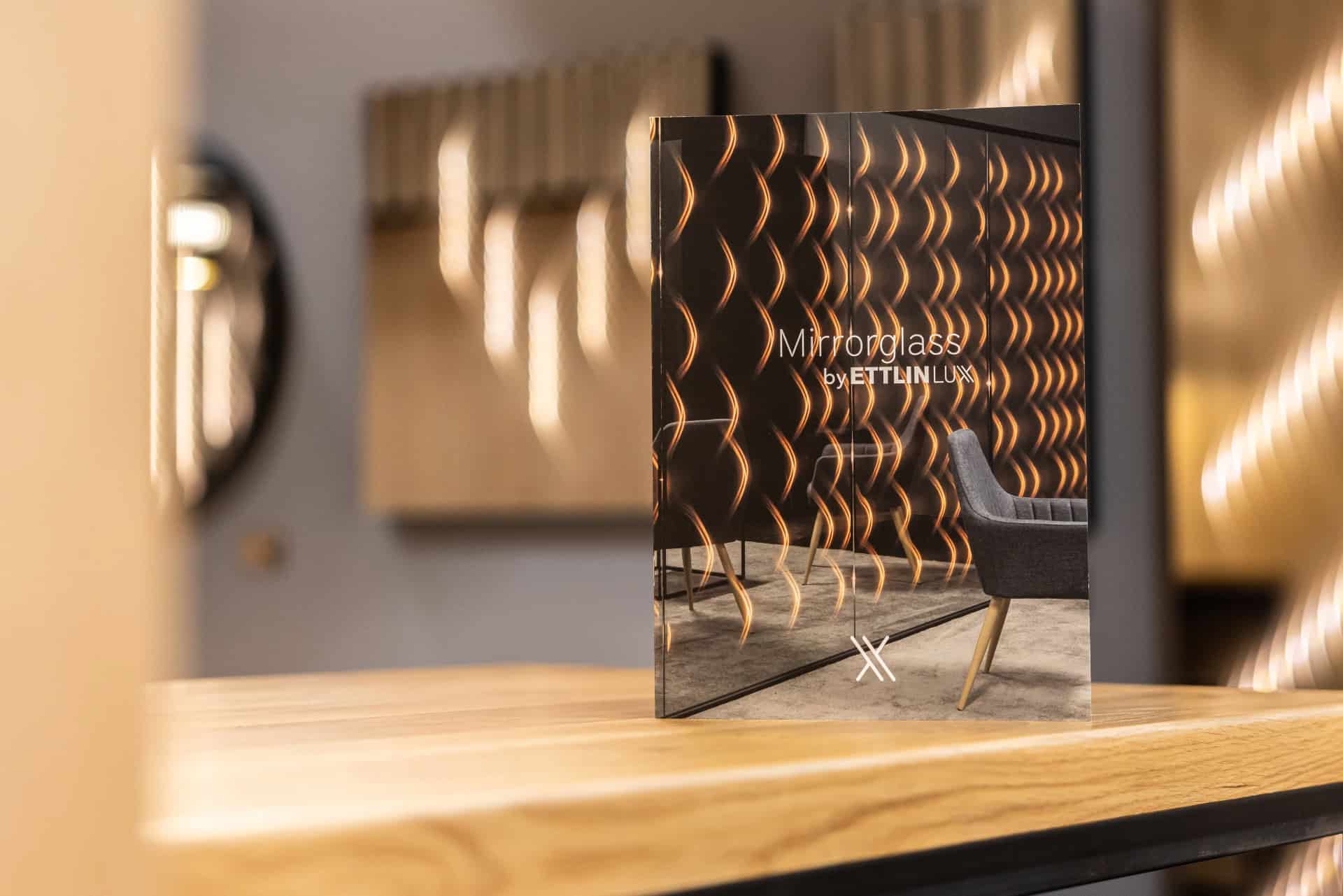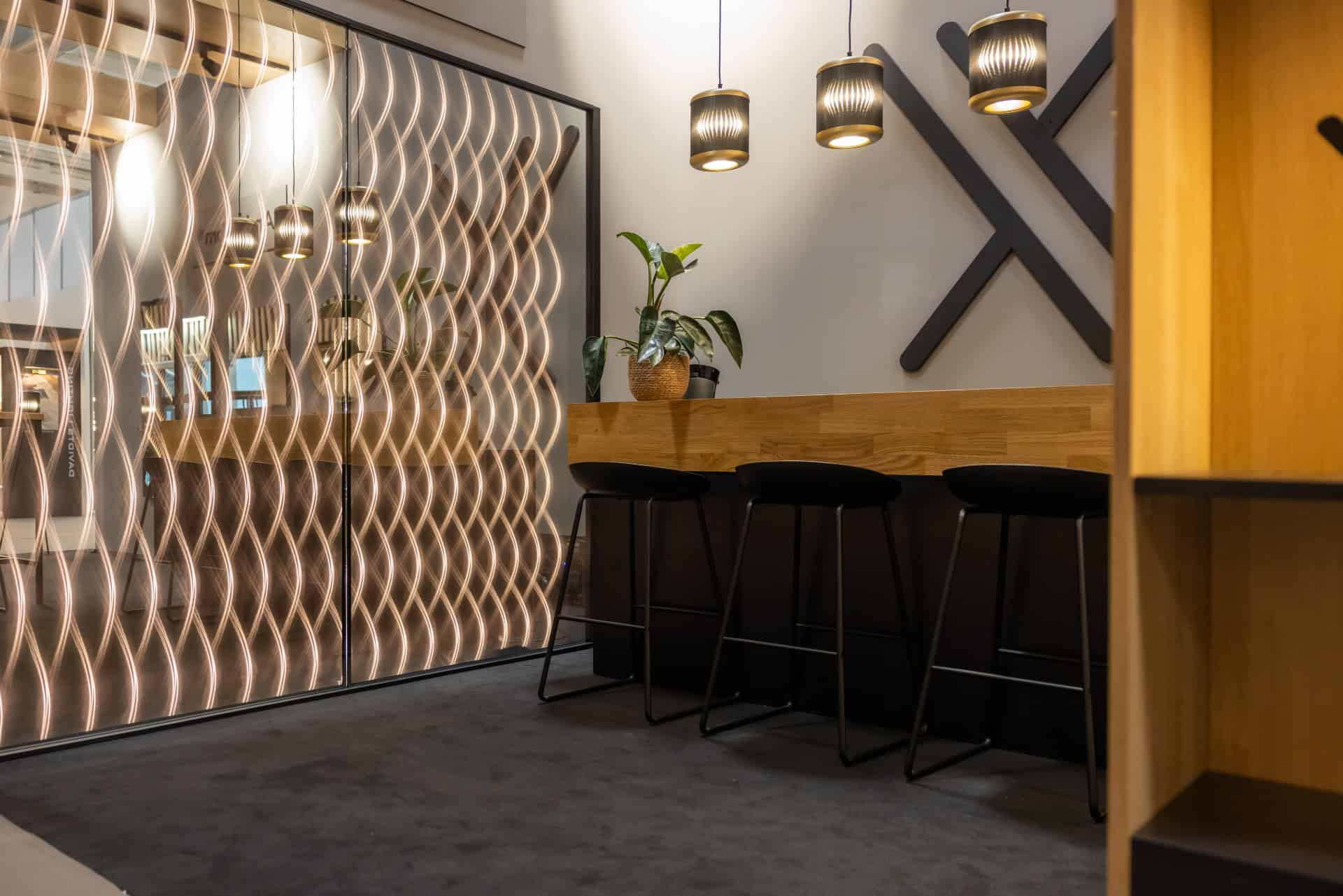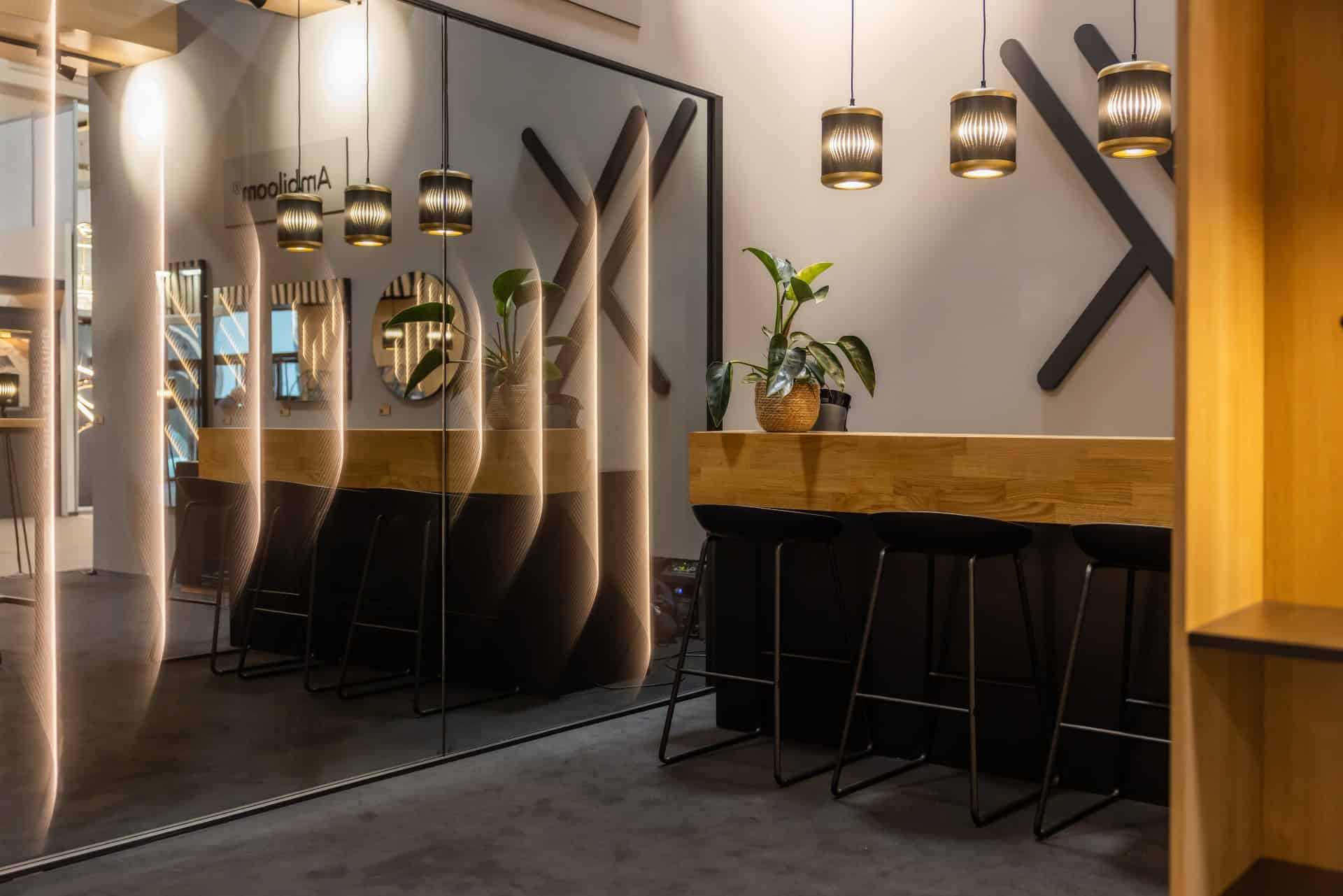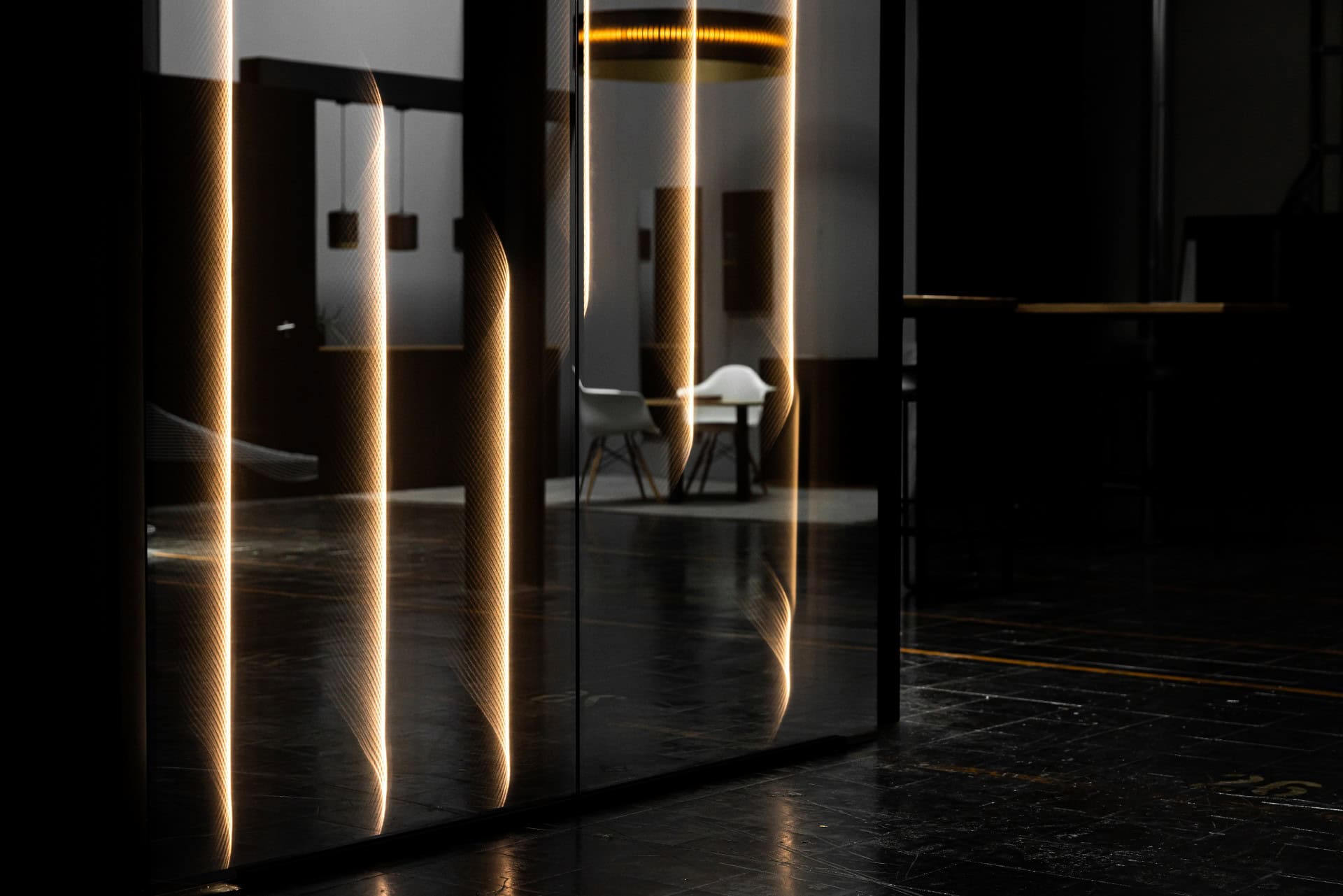 Are You Planning a Special Project?
The EttlinLux product collection and custom mirror glass is suitable for both residential and commercial spaces, they have the power to transform ordinary rooms into extraordinary experiences.
Contact us for more information for Ambiloom ready to use lamps and pendants or to discuss your custom design today!