Frequently Asked Questions
What is Staron Solid Surface made of?
Staron is made from a safe natural mineral refined from bauxite and blended with pure acrylic resin to create a high performance solid surface
Where is Staron Solid Surface made?
Staron is manufactured in South Korea by Lotte Chemical, Korea's leading chemical company.
Staron is one of many great products they produce.
Is Staron Solid Surface Silica Free?
Staron is manufactured from a safe natural mineral refined from bauxite and blended with a pure high quality acrylic resin, Staron does not contain harmful silica.
Is Staron Solid Surface recyclable?
Within Australia, there is no official take back to recycle Solid Surfaces. Staron has a long life expectancy within projects; the ability to renew and repair means it is not a short-term "throwaway" item. Old projects can be re-designed into new applications in the same way timber is able to be repurposed. Old kitchen projects often become new outdoor kitchens, laundry benches, and furniture items as an example. Staron is also sought after by artisans to create pens, knife handles, bowls, breadboards, and so on.
Staron offers a selection of colours with pre-consumer recycled content to minimise waste within the production process. Staron is non-hazardous and safe for landfills; however, we would always encourage end-users and designers to consider the opportunity of giving an old application a new life where ever possible.
Below image; a reclaimed kitchen display re-designed into outdoor furniture, 1 of 3 outdoor furniture items manufactured into new designs from the kitchen.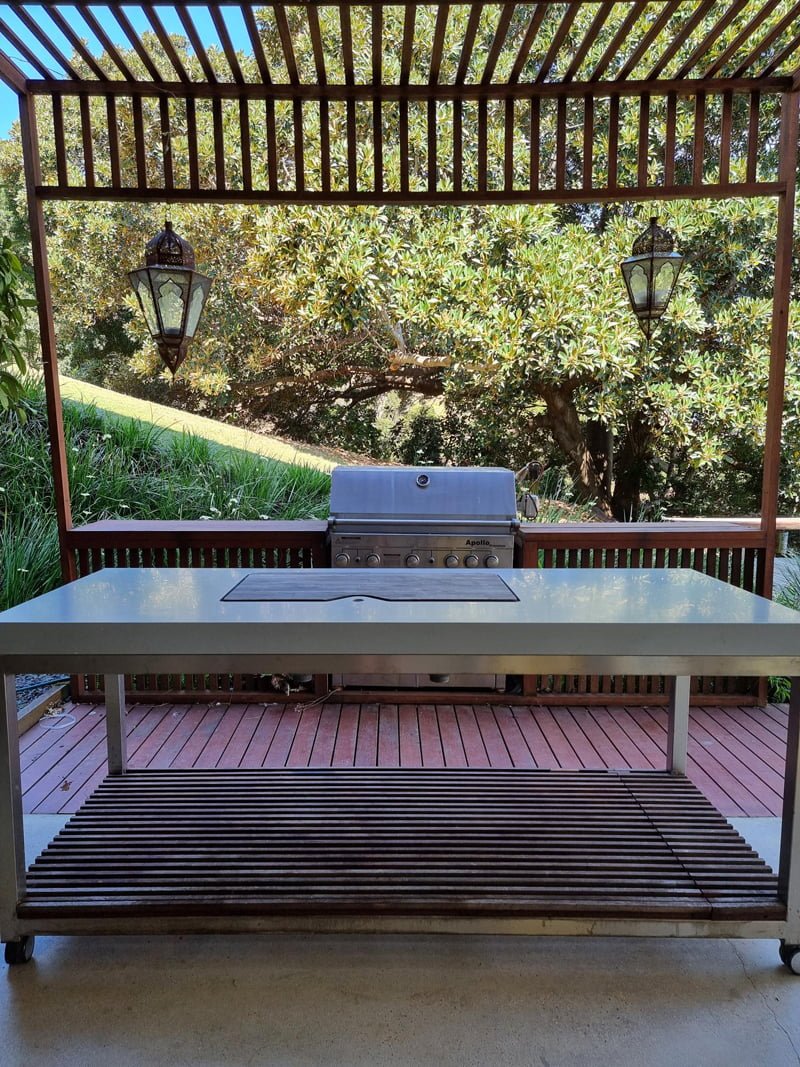 How do I renew or repair Staron Solid Surface?
The process to renew Staron Solid Surface is as simple as a re-finish; this can be booked through one of our Staron Solid Surface fabricators. In the event of any accidental damage, Staron Solid Surface can also be repaired. We recommend an off-cut be left with your project as "insurance" should it ever be needed for a repair or modification. This offcut will be a batched/colour matched piece of Staron.
Modification example – Zip Tap removal and repair

What size and thickness does Staron Solid Surface come in?
The most common size sheet supplied is 3680mm x 760mm x 12mm, this size is used for most projects. Staron is seamlessly joined and edges built up as required for your desired thickness, click here for examples of benchtop profiles.
Below are a few other sizes available, if you think these sizes are relevant for your specific project check availability with your representative. Other options are available for large projects and can be discussed project specific.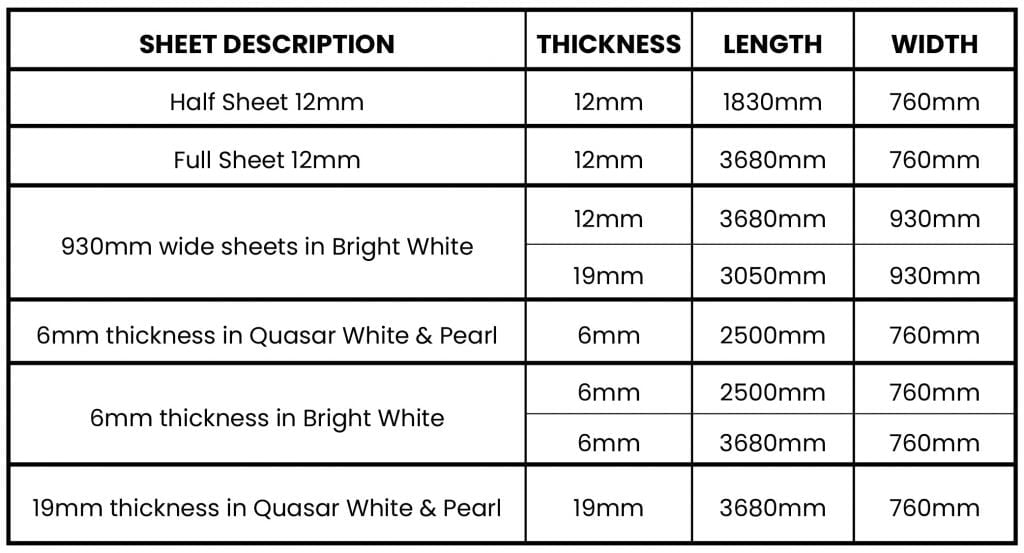 Can I use Staron Solid Surface on my drawer and cupboard fronts?
Yes, Staron Solid Surface is not only an excellent benchtop option it is also a great option for some door and drawer applications. There are a few different ways to achieve your design, below are a couple of examples. Shallow cup hinges are available that can work directly with 12mm Staron.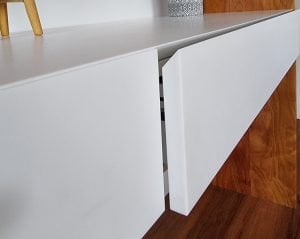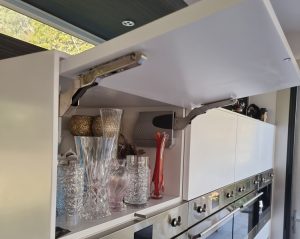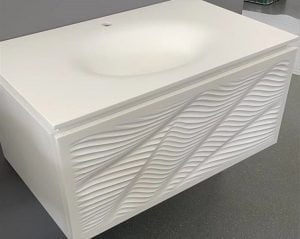 Can I bend or curve Staron Solid Surface?
Yes, Staron Solid Surface can be thermoformed to create all sorts of amazing curves and shapes, the curves that can be achieved differs across ranges.
Can I use Staron Solid Surface for shower & bathroom walls?
Staron Solid Surface is ideally suited to showers and wet areas, eliminating the need for grout; it will achieve a low maintenance application. When assessing options for this application you may also like to consider Mario Romano Walls for your wall cladding.
Can I use Staron to make a custom shower tray?
Yes, Staron is a great option for a shower tray.
You can contact a Staron Fabricator to design your own custom shower tray. Or you may like to chat to Formed and see if their range of design options are suited to your project.
Can I use Staron Solid Surface outside?
Yes, there are many exterior applications Staron Solid Surface has been incorporated in from joinery, seating and tables, artworks and exterior cladding. When considering Staron Solid Surface for exterior areas attention to detail is required for any substrate to be exterior grade as well.  Refer to our exterior colour options here. Please discuss your exterior project with one of our team to assess your design requirements are suitable in an outdoor environment.
Can I use Staron around my Barbecue?
Yes, Staron can be incorporated in BBQ applications – however, for your project to be covered by warranty, we recommend that Staron is specified to the left and right of the BBQ benchtop. Do not wrap Staron Solid Surface around the back of the BBQ; an insulation jacket is required to deflect heat from any possibility of damaging the surface. Staron Solid Surface is excellent for these applications when installed correctly.
Here you can read more about specifying Staron around your barbeque area.
Can I back light Staron Solid Surface?
Many colours in our range can be backlit, as the Staron Solid Surface range is always evolving please contact our team to discuss your project. Some of our colours suited to backlighting can be identified by this symbol💡on their sample tiles or noted as 'Illumination Opportunity" in their description.
Can I cut directly on my Staron Solid Surface benchtop?
It is not recommended to cut or put hot pots directly on your bench. A breadboard is best suited for hotpots and cutting to protect your countertop. However, an off-cut of Staron Solid Surface makes an excellent breadboard.
Does Staron stain or scratch easily?
Staron Solid Surface is non-porous and does not absorb spills like many other products, this makes it not only easy to clean but hygienic as well.
Staron is extremely durable however will show surface wear in a similar manner to timber, marble and stainless steel. This is the nature of solid surface and is not a defect. We recommend selecting light and mid-tone colours for high wear applications.
Lift and place objects and avoid dragging heavy and rough items over the surface.
Proper care will assist to keep the appearance of your counter looking its best.
We do not recommend the use of any cleaning products that leave behind a surface residue. These products can make it appear that your bench is staining and scratched, this is the result of a build-up of residue.
How do I clean Staron?
Clean your benchtop with warm soapy water and wipe over with a dry cloth. For stubborn grease marks add a little Eucalyptus oil to the water.
Staron loves a good scrub, cleaners like jiff, ajax or bi-carb assist to massage the surface and remove fine scratches.
For light colours, a little bleach can be added to the water from time to time and this is great for Staron sinks.
For more information on how to look after your benchtop and requirements for different finishes download the care and maintenance brochure.
How is Staron Solid Surface hygienic?
Due to the non-porous nature of Staron it does not create an environment for bacteria to propagate. In addition Staron is joined with a chemical bond that eliminates joins, eliminating dirt trapping crevices.
What is the Innovation Collection?
Staron leads the way in producing innovative, safe and fit for purpose surfaces. The Innovation collection includes:
Evermoin – A highly effective antimicrobial solution for healthcare.
Superflex – A next level Thermoformable solution for creating dramatic curves without limitations.
Pharos – An advanced fire retardant solution, certified to meet International Maritime requirements for the shipping industry
Is Staron Solid Surface fire rated?
Yes, Staron Solid Surface achieves a Group 1 rating to AS5637.1 (AUS) & Group 1S Fire rated to C/VM2 (NZ) room testing; the latest in requirements for interior spaces.
What are my design options using Staron Solid Surface?
The design versatility of Staron Solid Surface allows you to be creative across your project. Creating various benchtop thicknesses, integrated sinks, coves and splashbacks or even adding curves. On top of this, you can include a Mario Romano Walls design into your project and even flow to the outdoors.
Download Edge Profile Detail PDF
What is a tile cove?
The unique joining benefits of solid surface allow for the inclusion of a small return at the back of your benchtop. This return means you can lift the splashback off the bench, removing silicon from the back of the counter. This is a great way to keep the benchtop cleaner and stop any water from finding its way into the back of the joinery. This feature is not only practical; it looks great and can complement tiles, glass and other products. Or you can seamlessly integrate the Staron Solid Surface bench to Staron or Mario Romano splashback
How many Staron Solid Surface colour samples can I order?
To streamline our postage and handling we like to keep our mailouts to no more than 5 samples. In most instances, it would be best to contact your representative to view our whole range if you are unsure of which colours to choose.
Regional request has the ability to select additional samples as may not be able to meet with a representative.
Does it cost to order Staron Solid Surface colour samples?
No, there will be no cost to you.
Do you have a showroom?
The following states have design centres with our displays showcasing Staron Solid Surface products.
How do I find a Staron fabricator?
Contact your representative, we will be able to forward the best contacts once we have been able to establish your project requirements.
Still can't find what you're looking for?
Contact us & let's start creating