Frequently Asked Questions
What is Kaynemaile Architecture Mesh?
Kaynemaile Architectural Mesh is a robust woven mesh of interlocking rings. Made in New Zealand from engineering-grade polycarbonate.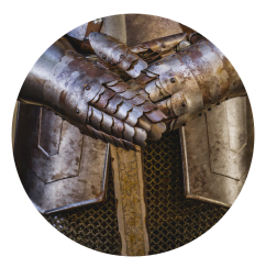 Chainmail Armour
Classic European 4+1 interlocking ring pattern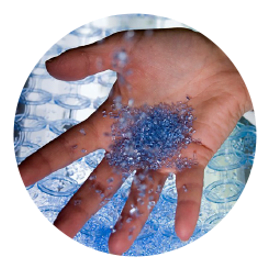 Polycarbonate
Created from engineering-grade polycarbonate combined with a fire retardant and UV resistance.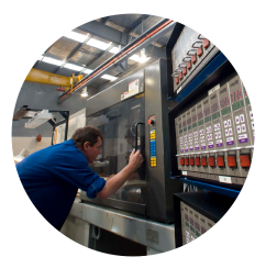 Liquid-state Assembly
Produced using a patented liquid-state assembly computer-controlled process. Injection molding technology developed in New Zealand.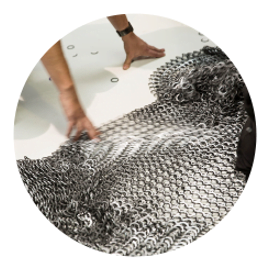 Nil-waste Manufacturing
Created via a nil-waste process and fully recyclable.
Is there a standard sheet size?
There are no standard sheet sizes with our mesh. Kaynemaile Architectural Mesh is manufactured without joins within the ring itself, and all rings seamlessly interlock. Ultimately, due to this process, we can create any size you require for your application.
Can it be trimmed to size if I don't have an exact measurement?
Yes, We can supply your screens slightly oversize in height to allow for any ceiling height variations during construction.
How will Kaynemaile Architectural Mesh be installed?
Many applications can be installed by a competent trade person, for larger complex projects we can recommend one of our trained installers. We offer a selection of technical sheets to assist with installation questions across our interior and exterior systems. Click HERE for all technical sheets and information.
In addition, we supply rods, tracks and propriety fixings to streamline installation.
Can all the colours be used outdoors?
All our range can be used for interiors, and we have a selection of colours available for exterior applications.
Click HERE to explore Kaynemaile Architectural Mesh colour selections.
Will Kaynemaile Architectural Mesh block airflow?
Due to our three-dimensional mesh design, it allows for up to 80% airflow through the cross-sectional open area.
Is the mesh heavy?
Kaynemaile Architectural Mesh is quite light at only 3kg per square meter for our mesh.
Will Kaynemaile Architectural Mesh block my view if using it for exterior screening?
The three-dimensional nature of the mesh gives a consistent open area achieving an unobstructed view.
Will the mesh suffer from corrosion if I am building in a coastal environment?
Kaynemaile Architectural Mesh is an excellent alternative to metal materials as it will not corrode in these harsh environments. In addition, it is very low maintenance and as the colour is all the way throughout, will not require painting or sealing like other products.
How durable is the mesh?
Don't be fooled by lightweight nature of Kaynemaile Architectural Mesh, our mesh is extremely robust and impact resistant.
Contact us & let's start creating
Need more information or have a project you would like to discuss?