Frequently Asked Questions
What is Mario Romano Walls?
Exclusive to Austaron Surfaces in Australia and New Zealand, Mario Romano Walls are created by an innovative manufacturing process, involving the latest in parametric computing and CNC machining technology. Offering a patented joining system, this routed design process is applied to Staron Solid Surface to create a multi dimensional surface with many application possibilities. 
Think of Mario Romano as large format tiles where each panel slips together in a similar manner to puzzle pieces.
What is Mario Romano Walls made from?
Mario Romano Walls is manufactured using Staron Solid Surface. Refer to the Staron Solid Surface colour collections page to view all available options.
How would this product be installed?
The panels can be directly siliconed to ply or plasterboard and require a flat unobstructed finished substrate. Applications over 3.6m high may require mechanical fixing.
What is the installation Process?
For direct fix the installation is straightforward. Each panel locks together and is chemically bonded to the substrate, some projects may require the addition of mechanical fixings.

How do I back light Mario Romano Walls?
Framed Mario Romano Walls example
It is best to build a lightbox using standard White Melamine HMR particleboard or White MR MDF, however this can vary depending on lighting, application and installation requirements.
LED strip lighting is best set at approx.125-150mm spacing, it is recommended LED Strip lighting is Installed in conjunction with aluminium profile/heat diffuser that can be fixed/rebated into the lightbox, allow for future access or replacement if needed.
Standard framed lightbox recommendation for 100mm overall depth. (ie. 16mm back panel, 70mm internal panel, 2mm Silicone and 12mm Staron Panel.
Fit outside end panels flush with the front of Mario Panels if desired or rebate side of box and slide Mario Romano panel within the side approx. 6mm.
Incorporate acrylic standoffs for support between the lights and at the join as in this picture, fix to panel with clear/translucent Silicone. (We supply 70mm standard height)
Fix panel around the perimeter with Silicone and hotmelt glue to assist with instant fix while silicone sets.
Finish joints where required with Staron adhesive, this needs to be done a small section at a time and a special adhesive applicator will be required.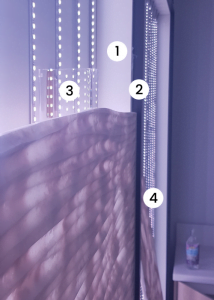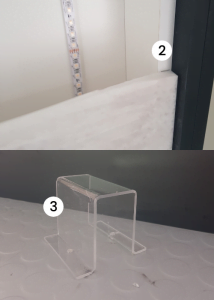 Can I install Mario Romano Walls myself?
Some smaller direct fix applications can easily be installed by a handy homeowner. You would require someone with experience for building back lighting options, we can liaise with your builder for install questions or offer installer recommendations where needed.
Complex and larger projects will be directed to one of our recommend installers.
Is there a standard sheet size?
There is no standard sheet size when working with Mario Romano Walls, with the latest CAD technology your selected design will be applied to fit to your required wall size. Your project will be created out of many pieces that slip inconspicuously together to create the selected design.
Can it be cut to size?
As the designs are created to suit your required finished size, you will not need to cut any panels, however Staron can be trimmed or scribed as required.
Can the panels be used in wet areas such as showers?
Yes, as Mario Romano walls are created using Staron you can apply to wet areas, your walls will still require waterproofing as per wet room installation requirements. The panels will be adhered with relevant flexible adhesive for bathroom applications and the addition of silicone between the joins during installation.
Can Mario Romano Walls be installed into island fronts or feature pieces such as splash backs?
Yes, and as many of these applications can be small you most likely can work with the Staron Solid Surface sheet size and eliminate any joins.This will make for a very quick installation.
Sheet size; All Staron Solid Surface colours 3680mm  x 760mm
– additional Bright White sizes 930mm and 1520mm wide options, confirm availability.
Are exterior walls possible?
Mario Romano Walls can be used on many exterior wall applications, the installation is the same as for interior and working with walls over 3.6 meters may require mechanical fixings.
Refer to Staron Solid Surface exterior colour options.
What colours are available?
You can select from any Staron Solid Surface colour range for interior applications and from this, there is a selection we can advise for the exterior.
Can Mario Romano Walls be curved?
Yes, you can thermoform Staron Solid Surface to create curved walls and features.
Can I create a my own design?
Yes, this is easily achievable, however additional cost are associated with custom designs.
How much does Mario Romano Walls cost to order?
Mario Romano standard designs are $650m² to $900m² ex GST plus delivery for panels ready for installation. The different cost structure is relevant to the Staron Solid Surface colour selected not the design. Therefore if selecting Bright White which is the first colour price point it will be $650m² ex GST for any standard design.
Custom designs incur additional fees which we can give project-specific.
Cost excludes installation and thermoforming.
What is the thickness of Mario Romano Walls?
Designs are routed into Staron Solid Surface which is 12mm thick, the routed depth various from 3mm to 9mm depending on the design.
What is the lead time to produce panels?
As Mario Romano is routed using Staron, stock is readily available.
The turn around time for the design process is approx. 1-2 weeks
Manufacture lead time is approx. 1-2 weeks
How do we order a Mario Romano Walls panel?
Orders are place direct with Austaron Surfaces, we require all dimensions, design and colour selection. In addition design drawings and project intention to assess project brief requirements.
Are Mario Romano Walls fire rated?
Yes, as the designs are routed onto Staron Solid Surface they have a Group 1 rating to AS5637.1 (AUS) & Group 1S Fire rated to C/VM2 (NZ)
How do I order Mario Romano Walls?
For standard designs, simply select your design and let us know the dimensions, your design will be documented to fit to your requirements. Design Linework will be supplied for signoff so you will know exactly how it will come together.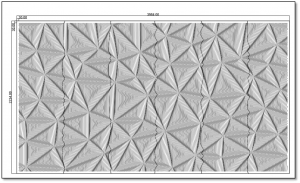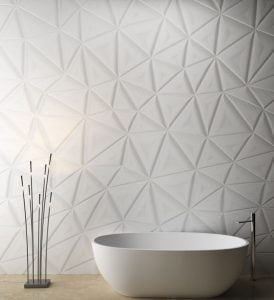 Should my design be a V Cutter or Ball Cutter?
Many designs can be routed in your choice of a V-cutter or Ball cutter, an example below of each option.
Check your selected design for router options.
V-cutter produces narrow deep routing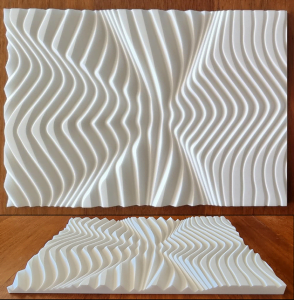 Ball cutter wider open routing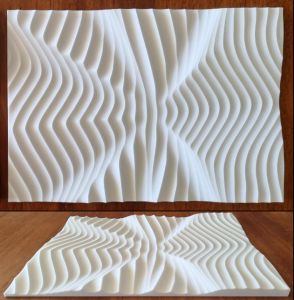 Can I create custom signage and logos?
We can create your ideal signage design.
Below are some samples.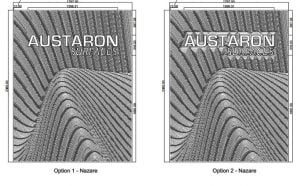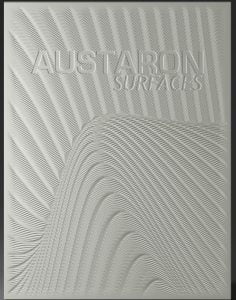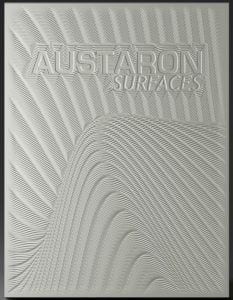 Do I need to apply a sealer or paint to Mario Romano Walls?
Painting or sealing is not required however should the need ever come that someone wanted to paint the surface this can be achieved.
Dark colours can "whiten" with the routing process and to achieve a deep lustre a food-grade oil is applied.
Before and after image of oil process

How do I clean Mario Romano Walls?
Mario Romano Walls can be cleaned with warm soapy water and a sponge or soft brush. Refer to the Staron care and maintenance for cleaning information to remove stubborn marks.
Contact us & let's start creating
Need more information or have a project you would like to discuss?