A Durable and Stylish Family Kitchen
Not all kitchen countertops are crafted with the same quality, as they are exposed to a wide range of family activities, from meal preparation and accidental tomato sauce splatters to various creative endeavours of children. Hence, selecting a surface that can effectively handle these tasks becomes a crucial design aspect.
Designer Beau Small took these factors into account when incorporating Staron Solid Surfaces into this family kitchen. Drawing from previous experience of using this non-porous, resilient, hygienic, UV-stable, and easily repairable material in commercial projects and retail space designs, the decision to utilize it for not just the countertop but also the backsplash and integrated sink in this residential setting was apparent.
The outcome is a clean and understated design that maintains a sense of warmth, attributed to the subtle patterns in the Supreme Ocean View colour variant (selected from the extensive range of Staron colours). The complementary veneer panelling and cabinetry in spotted gum further enhance this warmth. The space is defined by additional cabinets and drawers with integrated handles finished in two-pack polyurethane, along with a striking matching bulkhead. These elements combine to enclose the area, with premium appliances and a brass mixer seamlessly integrated to enhance functionality and visual appeal.
The combination results in a kitchen that is not only robust but also easy to clean, ensuring its owners can rely on it for countless weeknight meals, school projects, and joyful gatherings over the years to come.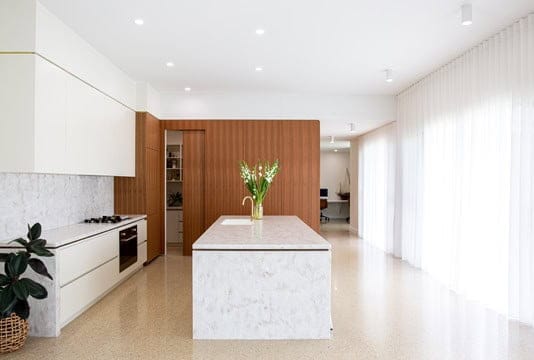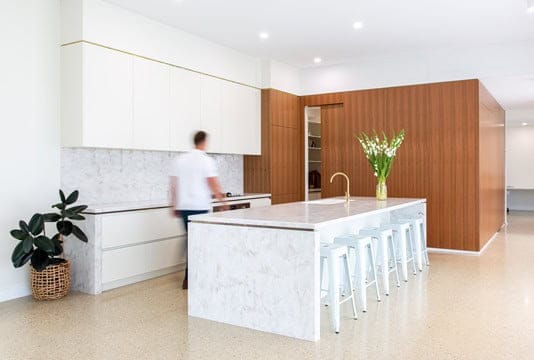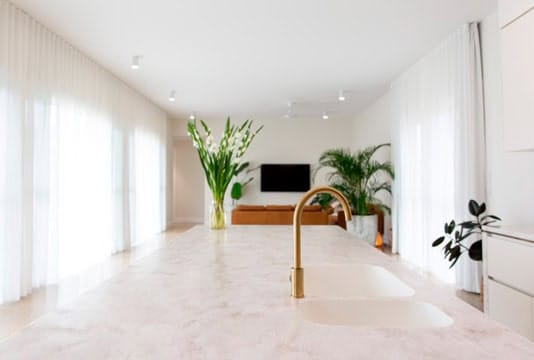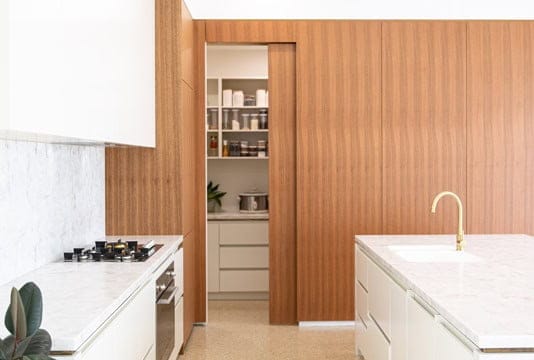 Contact us & let's start creating
Need more information or have a project you would like to discuss?