Kitchen by Urban Kitchens
Looking to turn an ordinary kitchen into a piece of artwork, the brief for this project was to create a WOW factor. Inspired by an existing abstract piece of art and a curved pendant in a gold finish, both of which were situated within the original kitchen space was the foundation to work from.
The curved overhead cabinets were finished with a custom artistic detail – completed onsite by a specialist painter. Complementing the curved overheads, the showstopper is the Acrylic Couture decorative panel in design Vento, the custom bar element curved to flow with the softness of the new design makes a statement.
Warm LED strip lighting was introduced around the perimeter of the Acrylic Couture panel to illuminate this amazing design feature. Highlighting the feathered elements within the panel creates a custom lighting feature to the lounge room for additional ambient lighting. Strip lighting was also positioned under the overhead cabinets to provide task lighting.
The benchtops were originally intended to be a more eye-catching part of the kitchen. However, once the other design elements were established, the muted tones & subtle movement within the porcelain design became the finishing touch that tied it all together. The gentle curve to the end of the bench, matching the curve on the acrylic panel – as well as the splashback and cladding to the side & top panels of the back bench created the luxurious/high-end design the clients had hoped for.
Deep drawers to the base cabinets, with Inner Drawers to the top drawers, kept the lines clean, whilst Blum drawer inserts allowed for the smart storage the clients requested.
The addition of a pop-up GPO and Zetr power outlets added extra design flair and functionality, to make the kitchen a pleasure to be in for our clients.
Acrylic Couture Selection: Vento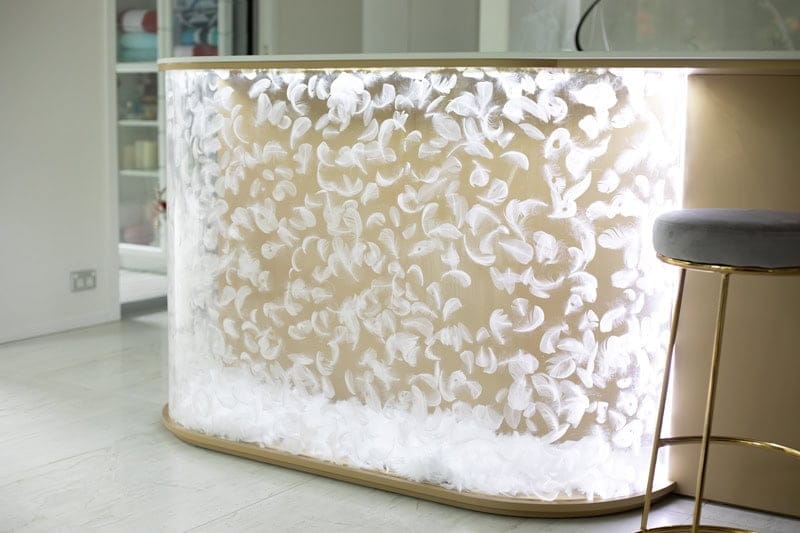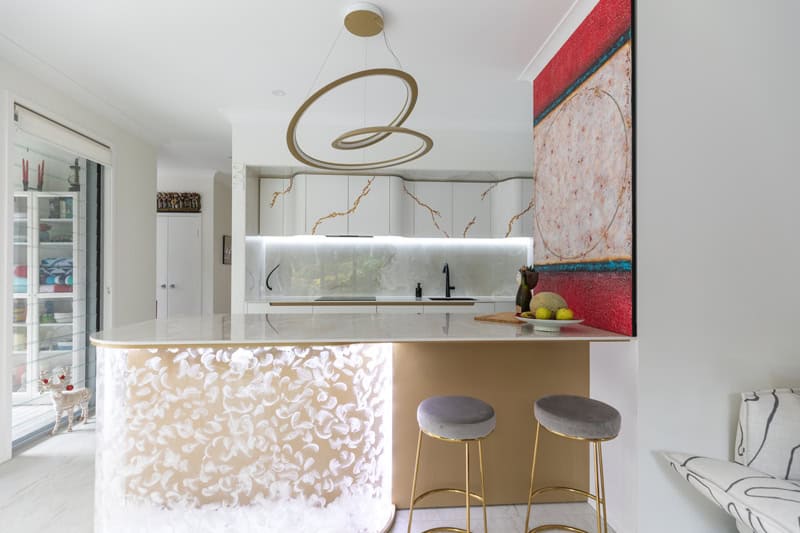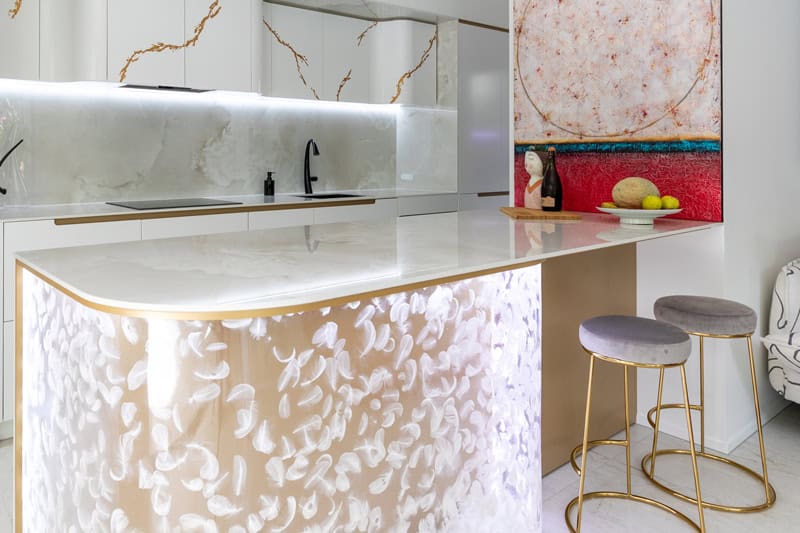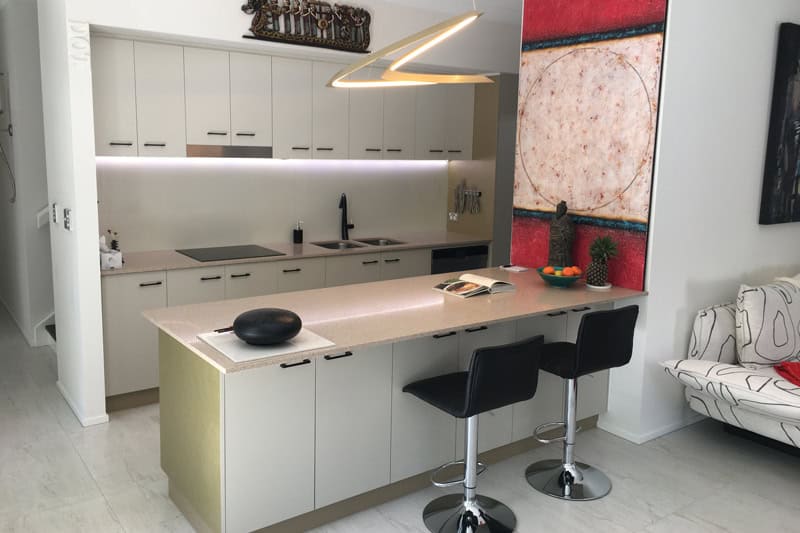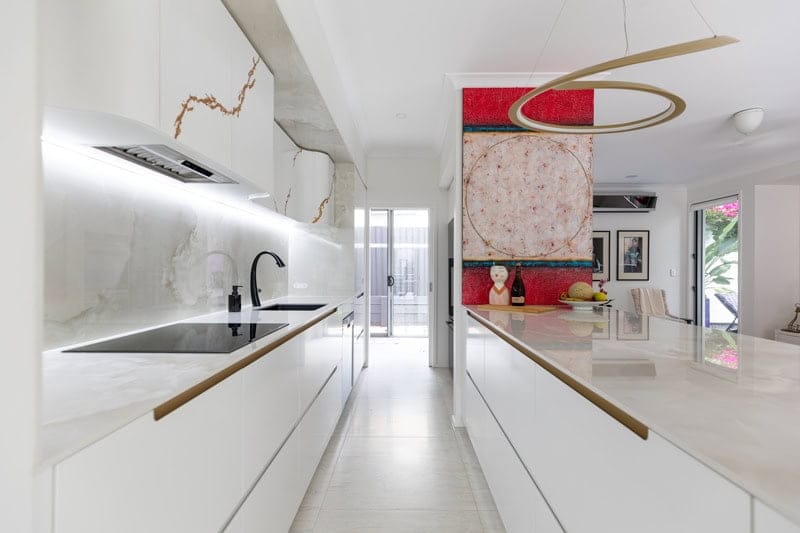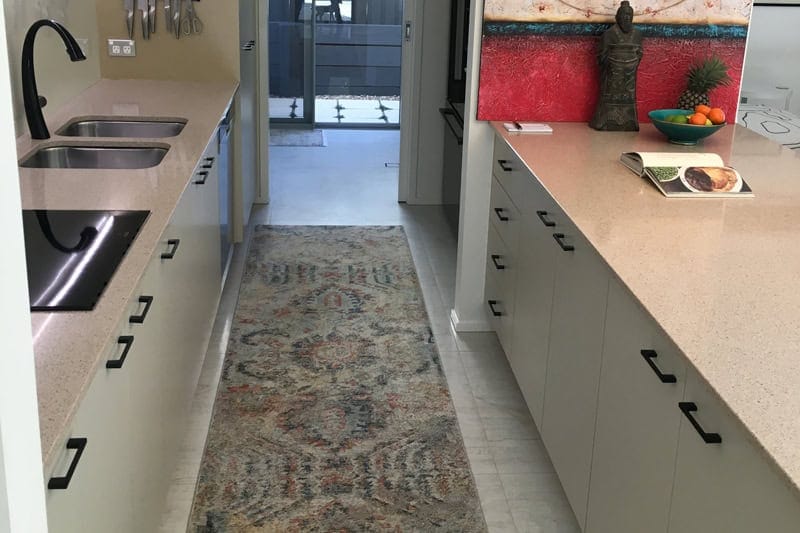 Contact us & let's start creating
Need more information or have a project you would like to discuss?