This stunning kitchen in a family home in Balmoral, QLD was designed by Ashley from AM Interior Studio. Ashley had full creative control of the interior design of this three-level home, so when it came to the kitchen space, she wanted to create a piece of art with practical features. Staron Solid Surfaces® was selected in colour Metallic Yukon and thermoformed to create curves. The surface wraps around the kitchen island being clad from the front to the back cupboard cabinetry and extends up to the benchtop.
A polished concrete benchtop has also been used on top of the island and around the cooktop area, creating a beautiful contrast between the two materials. Ashley specified Staron® Solid Surfaces as it achieved a smooth and monolithic appearance with no open joins.
This contributes to the art form of the kitchen space, while the low maintenance and non-porous nature of Staron® provide practicality. With an incredible view of the city skyline and beautiful, smooth kitchen curves inviting you into the kitchen, the end result is a space that is both aesthetically and functionally pleasing.
Staron Solid Surface Selection: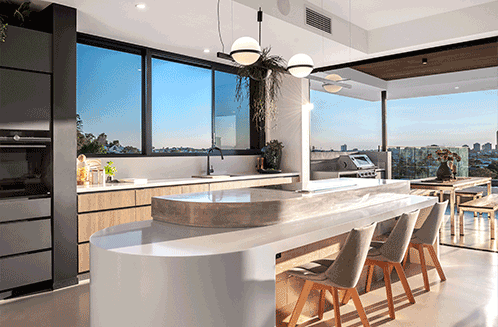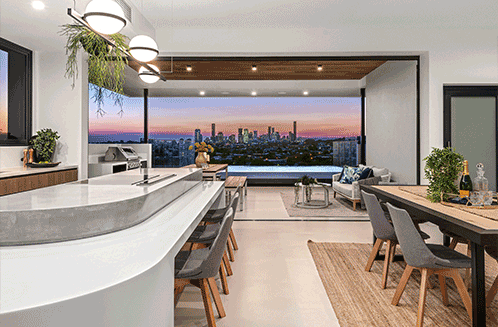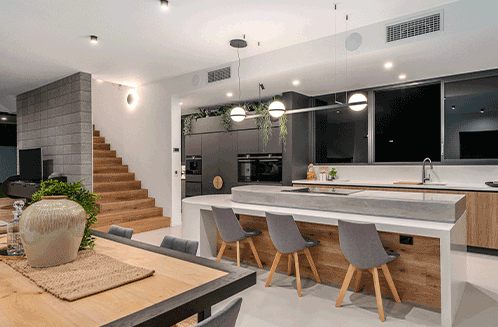 Still can't find what you're looking for?
Contact us & let's start creating